BAD SANTA – Domówka z Imprezowym Mikołajem
OPIS WYDARZENIA
Jeśli ogladałeś film "Zły Mikołaj"… to już wiesz czego się spodziewać. W piątek 1 grudnia wszystkich zaprawionych w bojach klubowiczów zapraszamy na BAD SANTA Party – czyli szaloną, zimową domówkę z energicznym, mega-imprezowym Mikołajem, sexy Panią Mikołajową i całą zwariowaną ekipą Elfów!!! Oprócz wielkiego wora prezentów oraz inwazji energicznych gadżetów: koszulek, smyczek, opasek i Energy Mixów, czeka na Was także potężna dawka innych atrakcji. To będą naprawdę jedyne w swoim rodzaju Mikołajki, których zapewne nie zapomnicie do końca życia. Hoooo…, hoo…, ho… pop prostu będzie się działo!!!
UWAGA!!! DJ DZIEKAN LIVE SHOW SPECJALNIE DLA MBROTHERA!!!
Zagrają: Main Stage: Thomas | Don Pablo & Daniels || Sala Dance: DeSebastiano & Teef
Bilet: 10 PLN | Wiek: +16 lat | Start: 21:00
PROMOCJA / URODZINY/KAWALERSKIE/PANIEŃSKIE – AKTYWNA. Zasady promocji znajdziesz w naszym FAQ.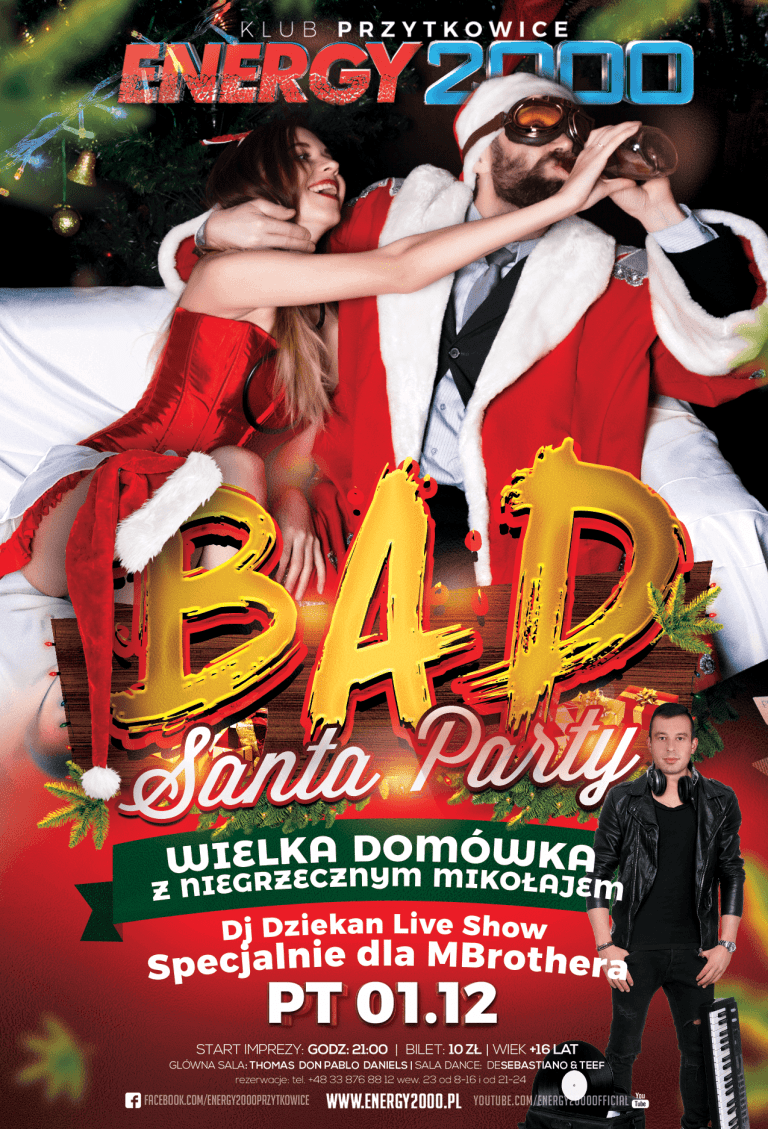 ---
Zobacz Galerię z Imprezy