BLACHA ☆ 2115 ☆ Hip-Hop Night
OPIS WYDARZENIA
BLACHA ☆ 2115 ☆ Hip-Hop Night
PT 12.11 ☆ ENERGY 2000 PRZYTKOWICE
W piątek 12 listopada zapraszamy Was serdecznie do Energy 2000, na kolejną imprezę z udziałem gwiazd polskiego hip-hopu. Tym razem na scenie pojawi się przedstawiciel grupy 2115 – niesamowity BLACHA! Usłyszycie na żywo jego największe hity "Mademoiselle", "Casablanca", "Bez moich braci" czy "Bonnie & Clyde". Tego wydarzenia naprawdę nie możecie przegapić. Będzie się działo i to sporo… to pewne!
Oczywiście oprócz eksplozji Hip-Hop-owych dźwięków, czeka na Was także moc innych atrakcji i niespodzianek!
BILETY DOSTĘPNE W DNIU WYDARZENIA W KASIE KLUBU I ONLINE.
Sprzedaż podzielona zostanie na II pule biletów. Bilety będzie można zakupić również w dniu wydarzenia w kasie klubu. Bilety w dniu wydarzenia: 20 zł
Wstęp: +16 lat | Start: 21:00
Bilety w dniu wydarzenia w kasie klubu: 20zł
Zagrają dla Was nasi rezydenci:
Main Stage: Thomas, Don Pablo, Daniels
Dance Stage: DeSebastiano, Milo
VIP Stage: Skrzypa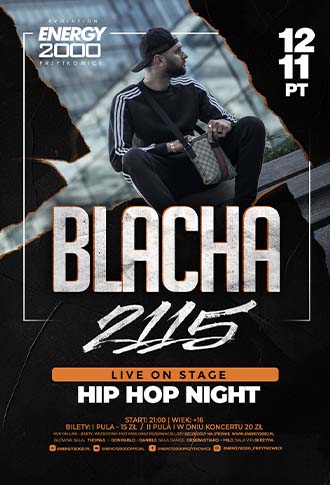 ---
Zobacz Galerię z Imprezy