CLUBBASSE pres. Retro Time In Attack
OPIS WYDARZENIA
W sobotę 2 września gorąco zapraszamy na kultową już imprezę RETRO TIME IN ATTACK, czyli kolejna przejażdżkę naszym energicznym wehikułem czasu. Na Wielki Powrót do przeszłości, w czasy kiedy muzyka miała duszę, a klubowicze stanowili jedną wielką rodzinę… zaprasza prawdziwa ikona polskiej sceny klubowej – legendarna formacja CLUBBASSE, twórcy takich niezapomnianych sztosów jak: "Pump Up The Volume", czy "In Attack" . Największe hity pierwszej dekady XXI wieku w stylu i klimacie jaki kocha Clubbasse oraz prawdziwa inwazja energicznych gadżetów: koszulek, silikonowych opasek, smyczek i nowych Energy Mixów, to tylko namiastka tego co tej nocy będzie się działo w Przytkowicach. Takiej imprezy żaden szanujący się Klubowicz i Retromaniak, po prostu nie może przegapić.
Na przywitanie dla każdego, na wejściu Powitalny Shot!!!
Bilet – 20 PLN | Wiek: +18 lat
Zagrają:
Sala Główna: Thomas | Don Pablo & Daniels
Sala Dance: De Sebastiano & Matt G
Sala VIP: Teef
Sala Top – R'nB: Resident Dj
PROMOCJE / URODZINY/KAWALERSKIE/PANIEŃSKIE – AKTYWNE! Zasady promocji znajdziesz w naszym FAQ.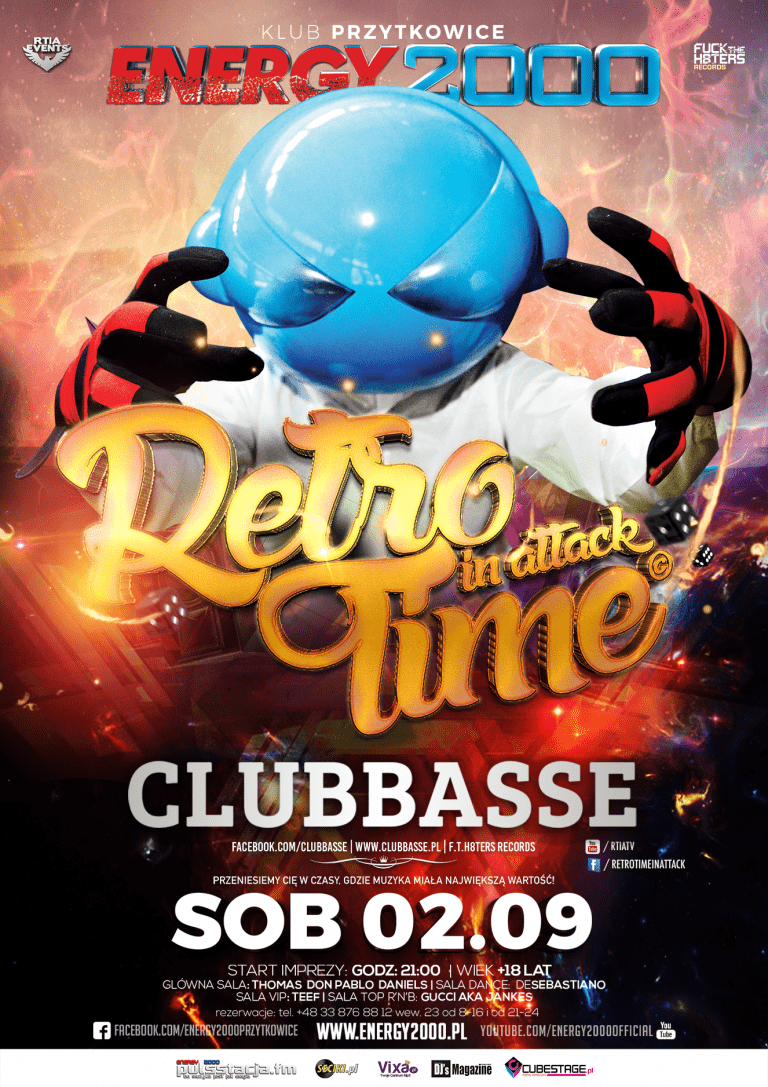 ---
Zobacz Galerię z Imprezy