CYPIS – Live On Stage
OPIS WYDARZENIA
Kochani, w piątek 20 października, na Wasze specjalne życzenie, po raz kolejny na energicznej scenie pojawi się równie popularny, co kontrowersyjny CYPIS. Tego Pana energicznym Klubowiczom specjalnie przedstawiać nie trzeba, bo dziesiątki coverów jego produkcji zyskały już setki milionów wyświetleń i podbiły kanał YouTube oraz serca prawdziwej rzeszy fanów. Ponownie usłyszycie na żywo takie numery jak "6 Dzień Tygodnia", "Impra Jest Tu", "Biała Mewa" … i wiele, wiele innych, w tym również zupełnie nowe, premierowe kawałki ! Będzie się działo i to sporo… to pewne!
Oczywiście oprócz eksplozji energetycznych dźwięków od Cypisa, czeka na Was także moc innych atrakcji i niespodzianek: pokaz pirotechniki scenicznej, wystrzały konfetti, wyrzutnie ognia i co2, multilaser-show oraz inwazja naszych firmowych gadżetów: koszulek, specjalnych opasek i nowych Energy Mixów.
UWAGA! Za konsoletą stanie tej nocy także – DJ HUBERTUS, współtwórca Energy Mixów i 1/2 formacji Bounce Inc i DiscoSuperstars.
Wiek: + 16 lat
Bilet: 10 PLN
Zagrają:
Główna Sala: Thomas | Don Pablo & Daniels
Sala Dance: DeSebastiano & Teef
PROMOCJA / URODZINY/KAWALERSKIE/PANIEŃSKIE – AKTYWNA. Więcej informacji w naszym FAQ.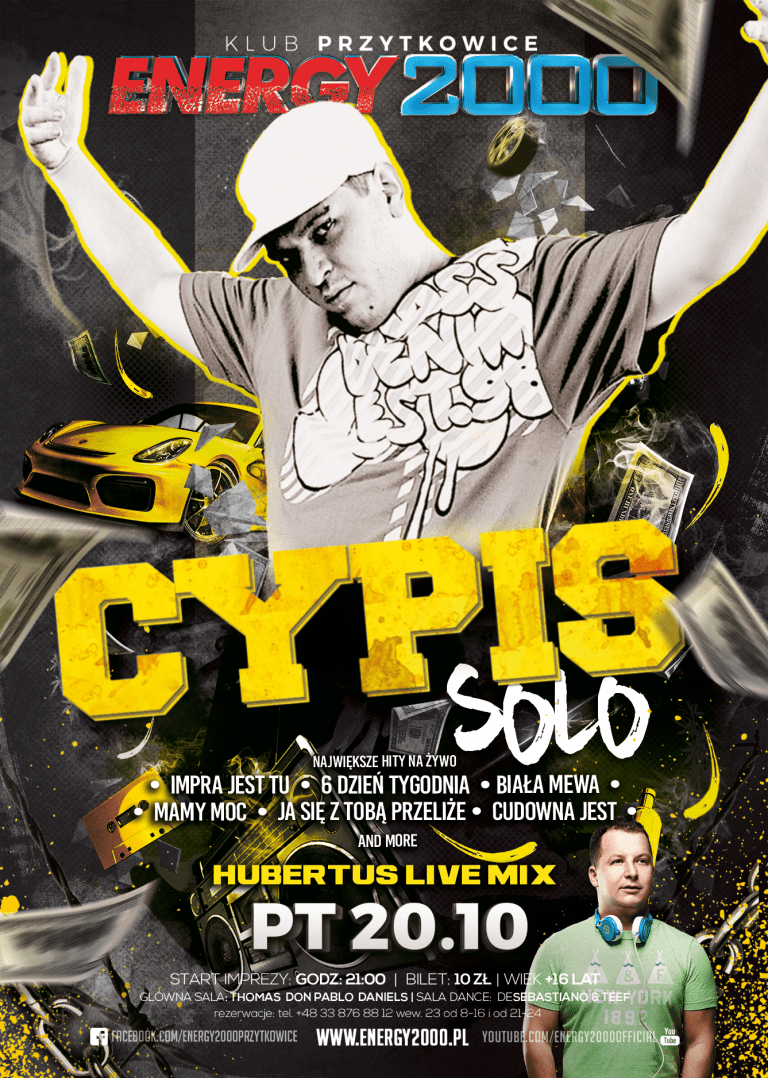 ---
Zobacz Galerię z Imprezy