DA TWEEKAZ ★ KINGS OF HARDSTYLE
OPIS WYDARZENIA
DA TWEEKAZ ★ KINGS OF HARDSTYLE
PT.14.06.2019 ★ ENERGY 2000 PRZYTKOWICE
W piątek 14 czerwca wszystkich fanów szybkich i mocnych kików, w tempie 150 BPM, zapraszamy na kolejną już edycję naszej kultowej imprezy – KINGS OF HARDSTYLE. Za energiczną konsoletą staną prawdziwe gwiazd tego gatunku – niesamowita formacja DA TWEEKAZ! Norweski duet, któremu humoru nie brakuje!
Twórcy hitów: "Komon", "The Hanging Tree", "Jägermeister" i wielu innych. Występ gwiazd zasaportują najlepsi polscy dj: Driver, Soundfighterz, Resq. Oprócz potężnej dawki energii w czystej hardstylowej formie, czeka na Was jak zwykle inwazja energicznych gadżetów: koszulek, smyczek, opasek i Energy Hard Mixów, a także zaproszenia na imprezy oraz moc atrakcji i niespodzianek.
UWAGA! Na wejściu nowy ENERGY HARD MIX SPRING 2019!
Zagrają:
Main Stage: Thomas | Don Pablo & Daniels
Sala Dance: DeSebastiano & Discotek
Sala VIP: Skrzypa
Bilet: 10 PLN | Wiek: +16 lat | Start: 21:00
PROMOCJA / URODZINY/KAWALERSKIE/PANIEŃSKIE – AKTYWNA. Zasady promocji znajdziesz w naszym FAQ.
Rezerwacja loży: ON-LINE: Dla zarejestrowanych i po zalogowaniu na naszej stronie www, w zakładce: KLUB/REZERWACJE lub TELEFONICZNIE pod nr. 33 876 88 12 wew.23 od pon. do pt. w godz. 8-16. Sobota (15:00 – 19:00) pod nr.tel. 609 539 580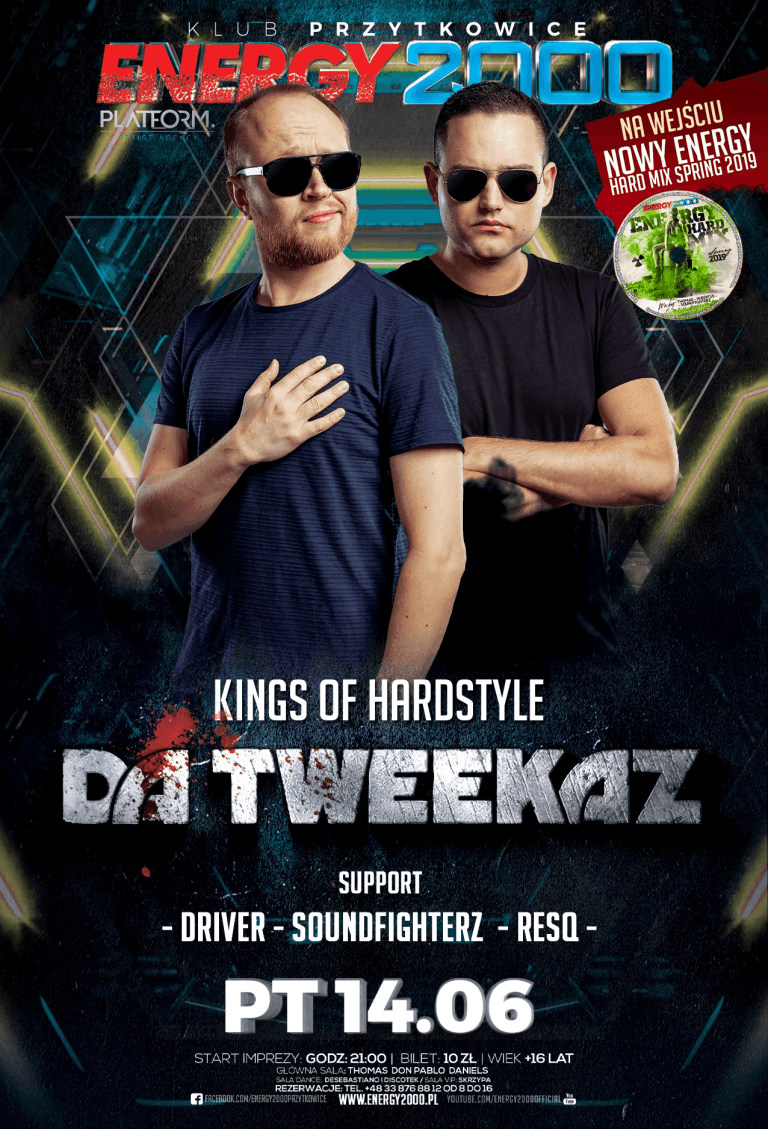 ---
Zobacz Galerię z Imprezy