DOMÓWKA Z JANUSZEM i GRAŻYNKĄ ★ JANUSZE SHOW
OPIS WYDARZENIA
DOMÓWKA Z JANUSZEM i GRAŻYNKĄ ★ JANUSZE SHOW
PT.01.02.2019 ★ ENERGY 2000 PRZYTKOWICE
Janusz! Somsiad bydzie, to i Ty musisz!
Zabierej Grażyna, zagrycha i goł tu party!
Jak Pjoter mo 16 to tyz wlezie! Bydzie się działo, że cało klapa w pasacie bydzie czonś! Dobro muzyka, lasery, fajny dziołchy i taszy z biedry! Halina, Mirosław, Czesiu i Marian też bedom, bo już na wsi głośno o tej dyskotece jest. To bydzie łogień imprezownia! Setki energetycznych gadżetów! Przynieś swoją przegrychę! (Chipsy, ogórki, paluszki, kanapki)
W trakcie imprezy jedyne takie Janusze Show!
DLA PRAWDZIWYCH JANUSZY I GRAŻYNEK
WSTĘP FREE (DO 22.00)
Weryfikacja – dokument tożsamości.
Dotyczy imion.
Zagrają
Main Stage: Thomas | Don Pablo & Daniels
Sala Dance: DeSebastiano & Matt G
Sala VIP: Skrzypa
Bilet: 10 PLN | Wiek: +16 lat | Start: 21:00
PROMOCJA / URODZINY/KAWALERSKIE/PANIEŃSKIE – AKTYWNA. Zasady promocji znajdziesz w naszym FAQ.
Rezerwacja loży: ON-LINE: Dla zarejestrowanych i po zalogowaniu na naszej stronie www, w zakładce: KLUB/REZERWACJE lub TELEFONICZNIE pod nr. 33 876 88 12 wew.23 od pon. do pt. w godz. 8-16.Sobota (15:00 – 19:00) pod nr.tel. 609 539 580.
Serdecznie zapraszamy!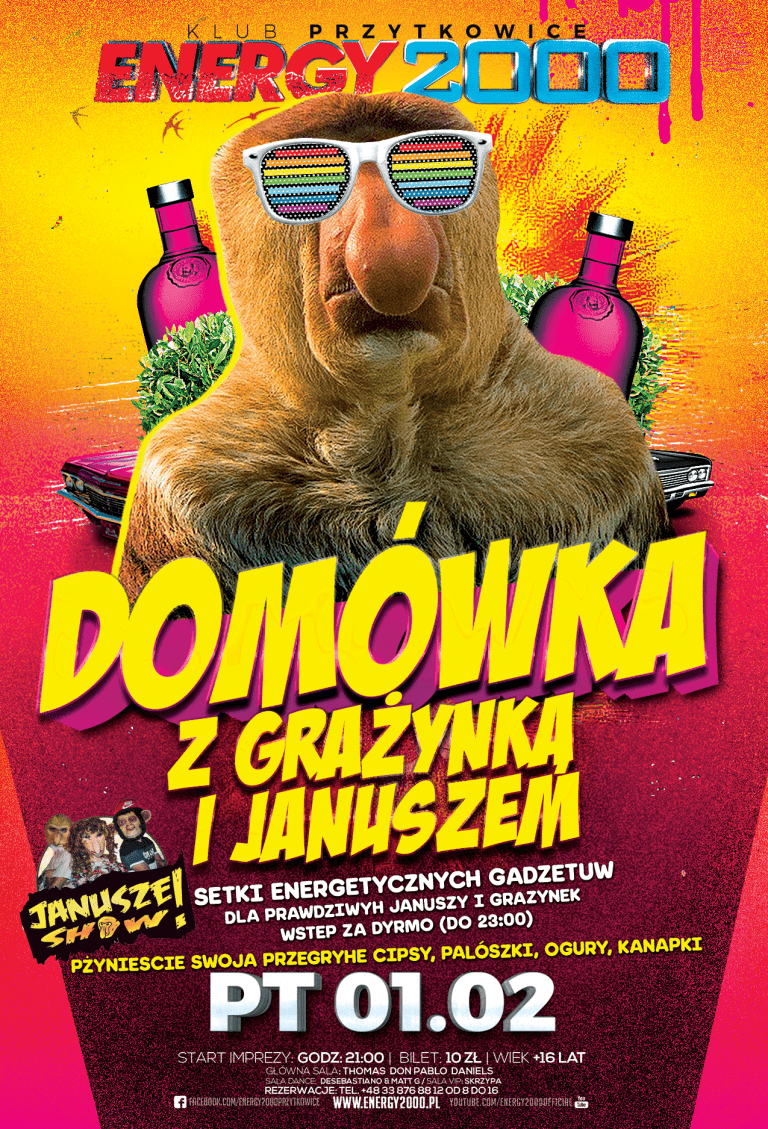 ---
Zobacz Galerię z Imprezy