HeadHunterz ★ Kings Of Hardstyle
OPIS WYDARZENIA
HEADHUNTERZ ★ KINGS OF HARDSTYLE
PT.09.11.2018 ★ ENERGY 2000 PRZYTKOWICE
Kochani już w piątek 9 listopada zapraszamy Was na niesamowite muzyczne wydarzenie z udziałem jednego z najpopularniejszych dj i producentów na świecie – HEADHUNTERZ-a. Nazywanego często "Wulkanem Energii"! Headhunterz stał się już prawdziwą legendą hardstyle, a jego osoba rozświetliła największe muzyczne festiwale, takie jak: Qlimax, Defqon1, Tomorrowland, Ultra Music Festival, EDC, Sensation, czy rodzimy Sunrise Festival. Nasz sławny gość pojawi się w Energy 2000 w ramach światowego turne po najlepszych i najpopularniejszych klubach i zaprezentuje swoje największe HARDSTYLOWE hity. Ci którzy znają potencjał Willema wiedzą, że jego sety to prawdziwa eksplozja muzycznej energii, która na długo pozostają zarówno w sercach jak i pamięci wszystkich uczestników imprez, które rozkręca Headhunterz. To będzie prawdziwe święto dla fanów mocnych i szybkich brzmień, a żaden szanujący się klubowicz po prostu nie może tego przegapić!
Oprócz występu gwiazdy, jak zwykle w piątkowe czeka na Was także, multilaser-show, pokaz pirotechniki wewnętrznej, wyrzutnie ognia i co2 oraz prawdziwa inwazja energicznych gadżetów: koszulek, opasek i Energy Mixów!
UWAGA! Na wejściu dla każdego:
NOWY ENERGY HARD MIX AUTUMN 18!
Jako support zaprezentują się:
DRIVER, SOUNDFIGHTERZ, RESQ, RAW INVADER
Bilety: Do 22.00 – 10 PLN, po 22.00 – 15 PLN
Wiek: +16 lat | Start godz.21:00
Uwaga! Nie prowadzimy przedsprzedaży biletów! Bilety do zakupienia w kasach klubu w dniu imprezy od godziny 21:00. NIEOGRANICZONA ILOŚĆ BILETÓW!
Zagrają dla Was nasi rezydenci:
Sala Główna: Thomas, Don Pablo & Daniels
Sala Dance: De Sebastiano & Matt G
PROMOCJA / URODZINY/KAWALERSKIE/PANIEŃSKIE – AKTYWNE.
Więcej w naszym FAQ.
Rezerwacja loży: ON-LINE: Dla zarejestrowanych i po zalogowaniu na naszej stronie www., w zakładce: KLUB/REZERWACJE lub TELEFONICZNIE pod nr tel. 33 876 88 12 wew.23 od pon. do pt. w godz. 8-16.
Sobota (15:00 – 19:00) pod nr.tel. 609 539 580
Serdecznie zapraszamy!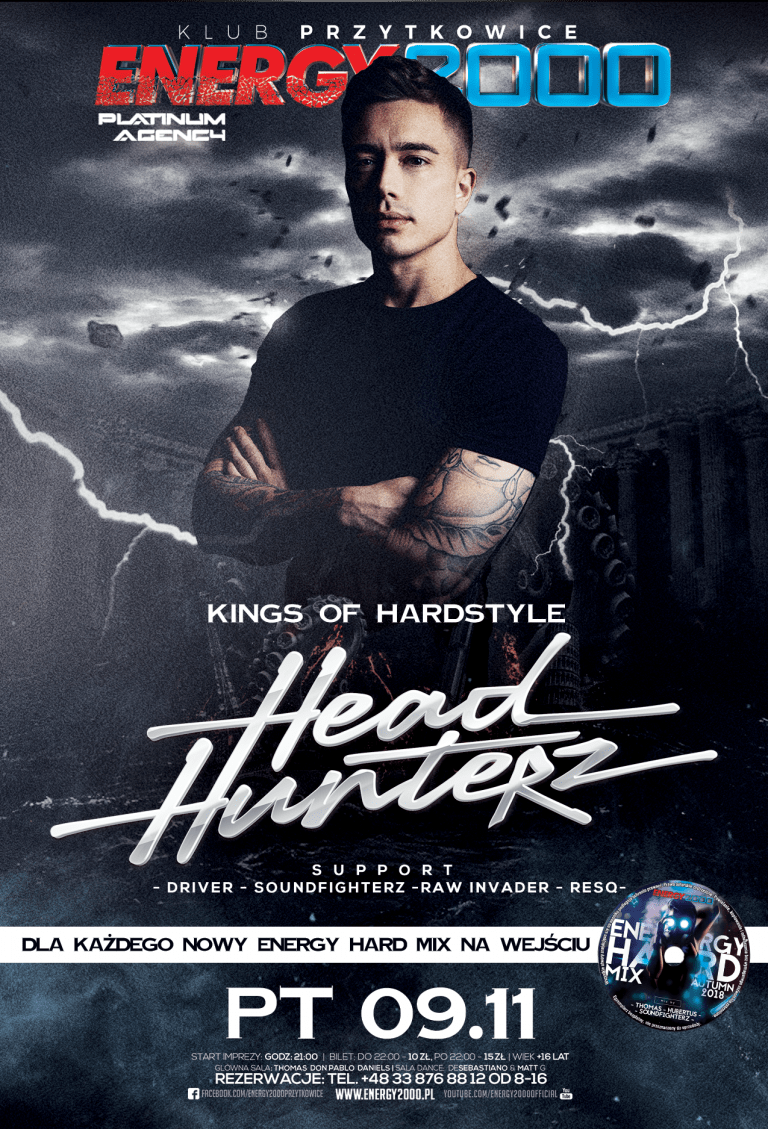 ---
Zobacz Galerię z Imprezy