HUMAN SLINGSHOT – Ludzka Proca
OPIS WYDARZENIA
W długi sierpniowy weekend, szykujemy coś specjalnego dla wszystkich wielbicieli adrenaliny i mocnych wrażeń. W sobotę 12 sierpnia zapraszamy Was na kolejną ekstremalną noc w przytkowickim Energy 2000. Tym razem coś czego nie spróbujecie nigdzie indziej … niesamowita, szalona i ekscytująca – jedyna w swoim rodzaju i niepowtarzalna impreza "HUMAN SLINGSHOT", czyli "LUDZKA PROCA" w najlepszym energicznym wydaniu. W czasie imprezy będziecie mieć jedyną i niepowtarzalną okazję aby poczuć się niczym ptaszek Angry Bird, a to dzięki naszej "Ludzkiej Procy", która wystrzeli Was z przy pomocy dwóch gum bungee z prędkością 120 km/h, na wysokość 35 metrów i odległość 100m. Przez chwilę poczujęcie się jak piłka do tenisa … tam i z powrotem z ogromną prędkością… to coś dla prawdziwych "Hardkorowców". Zobaczcie filmik poniżej i wszystko będzie dla Was jasne.
UWAGA! PRZY ZAKUPIE DWÓCH ENERGY DRINKÓW SKOK ZA DARMO!!!
(Ilość skoków ograniczona)
Oczywiście jak zawsze w czasie naszych ekstremalnych imprez mamy dla Was vouchery od sponsora imprezy, firmy "Prezent Marzeń" czyli: darmowe skoki na bungee, przejażdzki Ferrari, skoki na spadochronie i moc innych pasjonujących przeżyć, które możecie zrealizować w 40 miejscach w całej Polsce.
To będzie naprawdę niezapomniana impreza!!!
Jak zwykle w soboty, czeka na Was także inwazja energicznych gadżetów – fimowych koszulek, opasek i smyczek oraz zaproszenia do Parku Rozrywki Energylandia.
Uwaga!, na wejściu dla wszystkich powitalny shot !
Sala Główna: Thomas, Don Pablo & Daniels
Sala Dance: De Sebastiano & Matt G
Sala TOP R'n'B: Resident Dj
Bilet: 20 PLN | Wiek:+18 lat | Start: 21:00
PROMOCJA URODZINOWA i PANIEŃSKO – KAWALERSKA – AKTYWNA! Więcej info w naszym FAQ.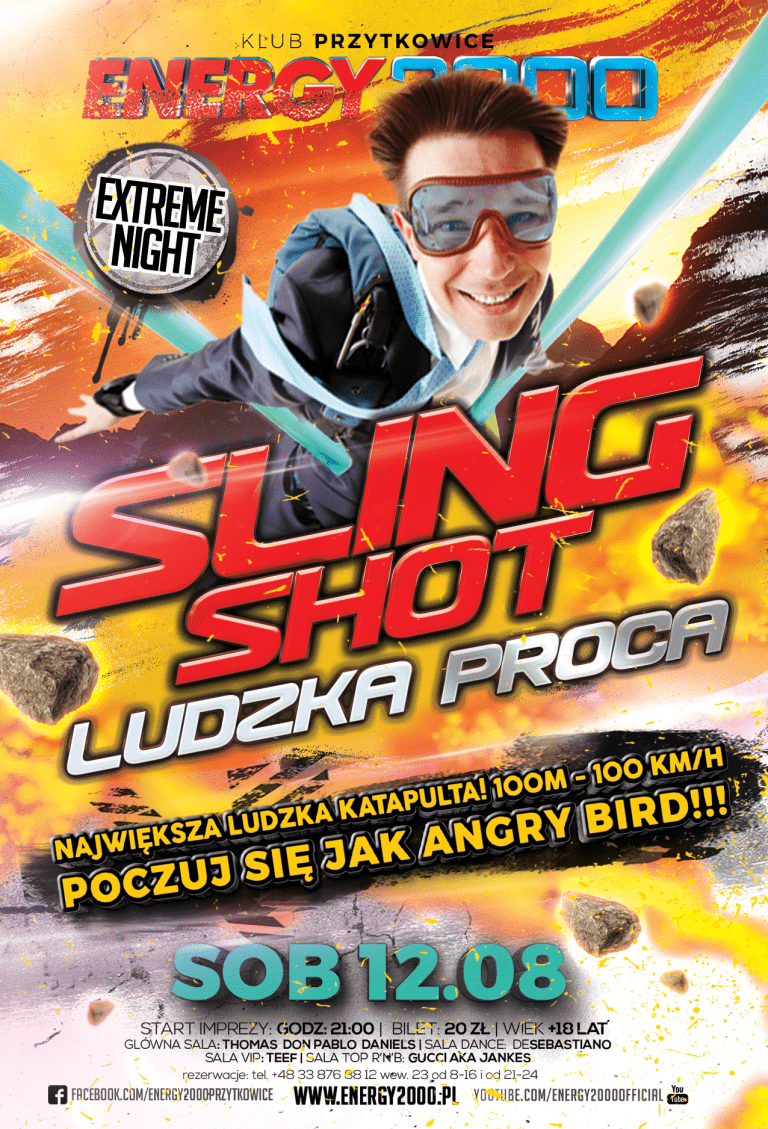 ---
Zobacz Galerię z Imprezy