Mike Candys World Tour 2018
OPIS WYDARZENIA
MIKE CANDYS World Tour – Sob.07.04.2018 Energy 2000 Przytkowice.
W sobotę 7 kwietnia, zapraszamy na niesamowitą imprezę z udziałem najbardziej znanej na świecie "Uśmiechniętej Buźki", czyli MIKE CANDYS-a, we własnej osobie! Ten sławny szwajcarski dj i producent, zaprezentuje swoje największe hity: "Everybody", "Brand New Day", "One Night In Ibiza", "Around The World" czy "2012", a także przypomni Wam inne, niezapomniane przeboje z tamtego okresu.
Za każdym razem wizyta Mika w Energy to wielki wydarzenie, bo Candys to nie tylko doskonały producent i ikona tamtych czasów, ale także świetny i charyzmatyczny dj, którego niesamowite występy należą do najlepszych, w długiej historii naszego klubu.
Żaden szanujący się energiczny klubowicz, po prostu nie może przegapić takiej okazji. Jak zwykle w czasie sobotniej imprezy nie zabraknie także innych atrakcji i niespodzianek: pokazu pirotechniki scenicznej, wystrzałów konfetti, multilaser-show oraz inwazji energicznych retro gadżetów i naszych firmowych prezentów: koszulek, opasek i smyczek.
UWAGA! Na wejściu dla każdego w PREZENCIE – NOWY ENERGY MIX vol.56!
Wstęp: 20 PLN | Wiek +18 lat | Start 21:00
Zagrają dla Was nasi rezydenci:
Sala Główna: Thomas Don Pablo & Daniels
Sala Dance: De Sebastiano & Matt G
Sala VIP: Teef
Sala Top – R'n'B: Dj Skrzypa
Występ Mike Candys na Sali Głównej / około godz. 01:00
Więcej info w naszym FAQ!
Rezerwacja loży: ON-LINE: Dla zarejestrowanych i po zalogowaniu na naszej stronie www., w zakładce: KLUB/REZERWACJE lub TELEFONICZNIE pod nr. 33 876 88 12 wew.23 od pon. do pt. w godz. 8-16 i po 21-24.
Sobota (15:00 – 19:00) pod nr.tel. 609 539 580
Serdecznie zapraszamy!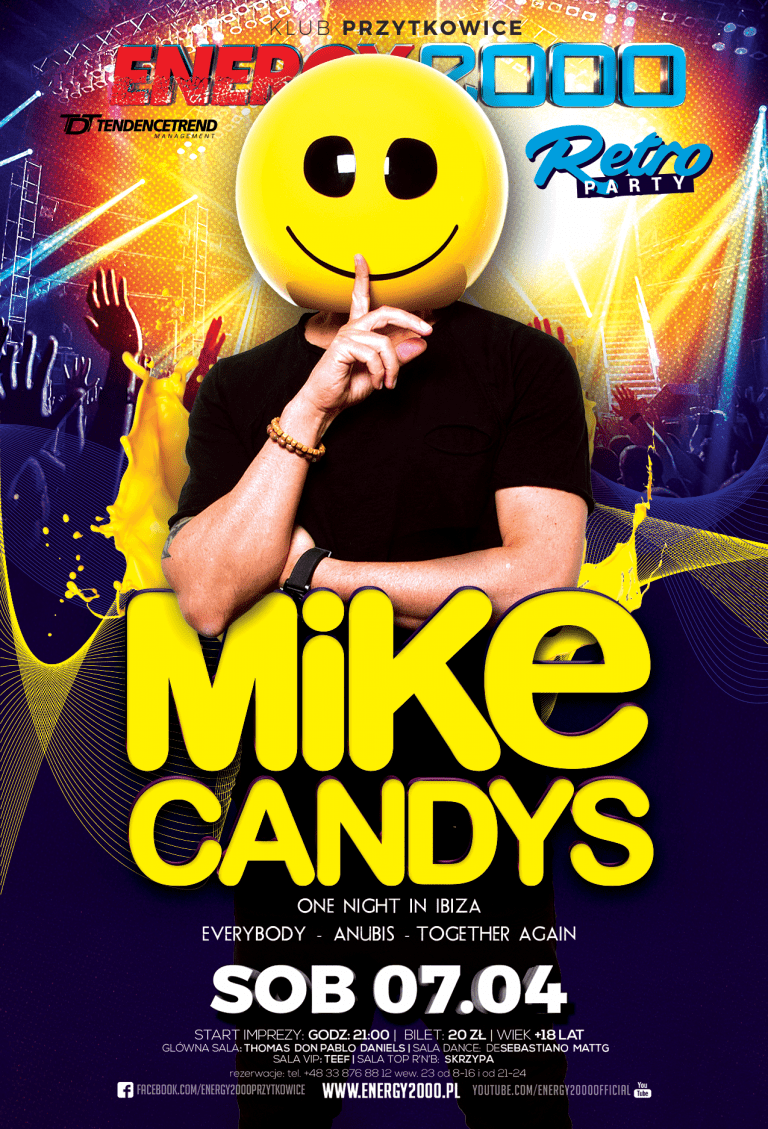 ---
Zobacz Galerię z Imprezy