Mikołajki ★ DJ Dziekan RETRO SHOW ★ Nowator – sala DANCE
OPIS WYDARZENIA
MIKOŁAJKI ★ DJ DZIEKAN/ NOWATOR
Sb.07.12.19 ★ ENERGY 2000 PRZYTKOWICE
W sobotę 7 grudnia zapraszamy Was na wyjątkowe Mikołajki w najlepszym energicznym wydaniu. Tej wyjątkowej nocy w naszym klubie pojawią się specjalni goście: energiczny Mikołaj wraz z piękną Panią Mikołajową …oczywiście z workiem pełnym prezentów i niespodzianek dla naszych klubowiczów. Dodatkową atrakcją będzie specjalne RETRO SHOW, w wykonaniu naszego gościa – wirtuoza keyboardu – jedynego i niepowtarzalnego DJ DZIEKANA. To co ten człowiek robi z klawiaturą swojej Yamahy to prawdziwe "mistrzostwo świata"! Po prostu musicie to zobaczyć i usłyszeć! Na sali DANCE czeka na Was koncert NOWATOR'a, twórcy hitów: "Z Lewa do Prawa", "Spadam stąd", "Wrócę Nad Ranem" i wielu innych. Jak zwykle w czasie sobotniej imprezy nie zabraknie także innych atrakcji i niespodzianek: pokazu pirotechniki scenicznej, wystrzałów konfetti, multilaser-show oraz inwazji energicznych gadżetów.
Bilety: Panie 15 zł, Panowie 20 zł
Start: 21:00 | Wiek: +18
Zagrają dla Was nasi rezydenci:
Sala Główna: Thomas & Don Pablo & Daniels
Sala Dance: De Sebastiano & Matt G
Sala VIP: Skrzypa
Sala Top: Discotek
PROMOCJE / URODZINY/KAWALERSKIE/PANIEŃSKIE – AKTYWNE! Zasady promocji znajdziesz w naszym FAQ.
Ilość promocji ograniczona.
Rezerwacja loży: ON-LINE: Dla zarejestrowanych i po zalogowaniu na naszej stronie www., w zakładce: KLUB/REZERWACJE lub TELEFONICZNIE pod nr tel. 33 876 88 12 wew.23 od pon. do pt. w godz. 8-16.
Sobota (15:00 – 19:00) pod nr.tel. 609 539 580
Serdecznie zapraszamy!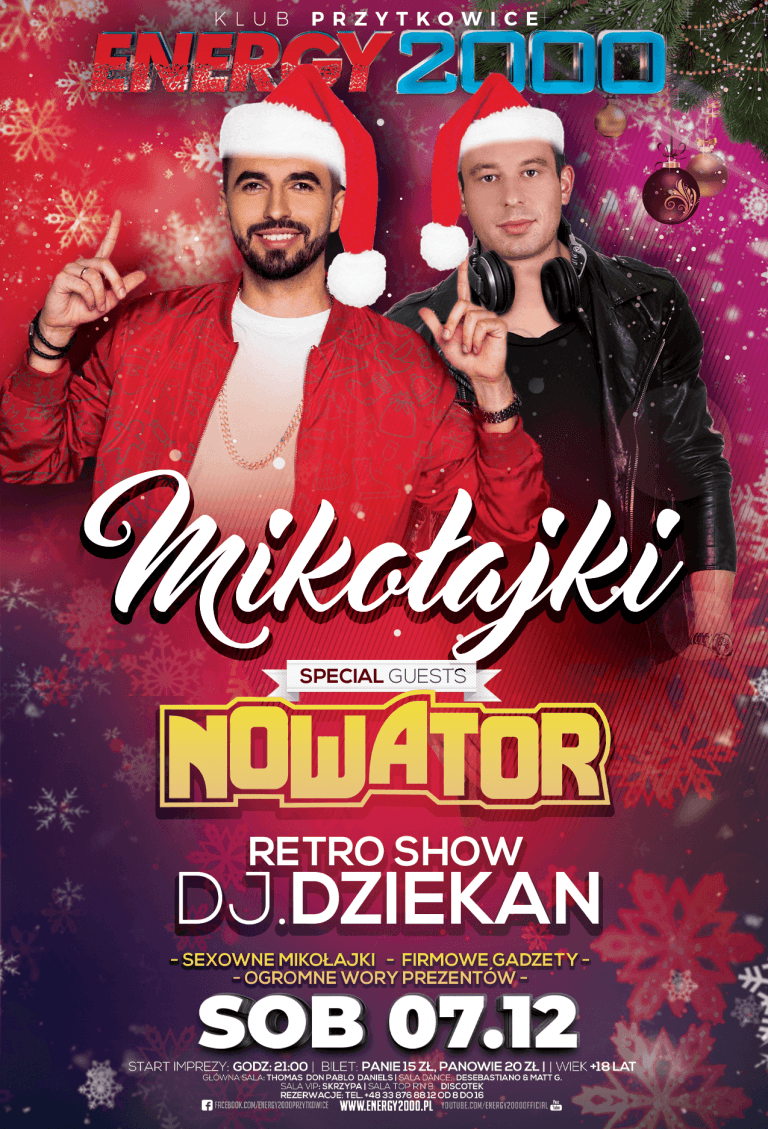 ---
Zobacz Galerię z Imprezy