MR POLSKA ☆ ZŁOTE TARASY ☆ Live On Stage!
OPIS WYDARZENIA
MR. POLSKA ☆ LIVE ON STAGE!
PT 17.06 ☆ ENERGY 2000 Przytkowice
Wiek: +16 lat | Start: 21:00 | Bilety: w kasie klubu 20zł
W piątek 17 czerwca zapraszamy na mocno imprezowy wieczór! Na naszej energicznej scenie pojawi się Mr. POLSKA – twórca hitu "ZŁOTE TARASY", który już stał się PRZEBOJEM! (ponadto autor hitów: "Jagodzianki", "Kota", "Czarny dress" i wielu innych). Będzie się działo i to sporo… to pewne! Spodziewajcie się niesamowitych efektów specjalnych, masy nagród, atrakcji i energicznej muzy! Tego wydarzenia nie możesz przegapić!
WEJŚCIÓWKI DOSTĘPNE ON LINE ORAZ W DNIU WYDARZENIA W KASIE KLUBU!
PROMOCJE PANIEŃSKIE – AKTYWNE
PROMOCJE URODZINY – AKTYWNE
Zagrają dla Was nasi rezydenci:
Main Stage: Thomas, Don Pablo, Daniels
Dance Stage: Milo, Blakait
VIP Stage: Skrzypa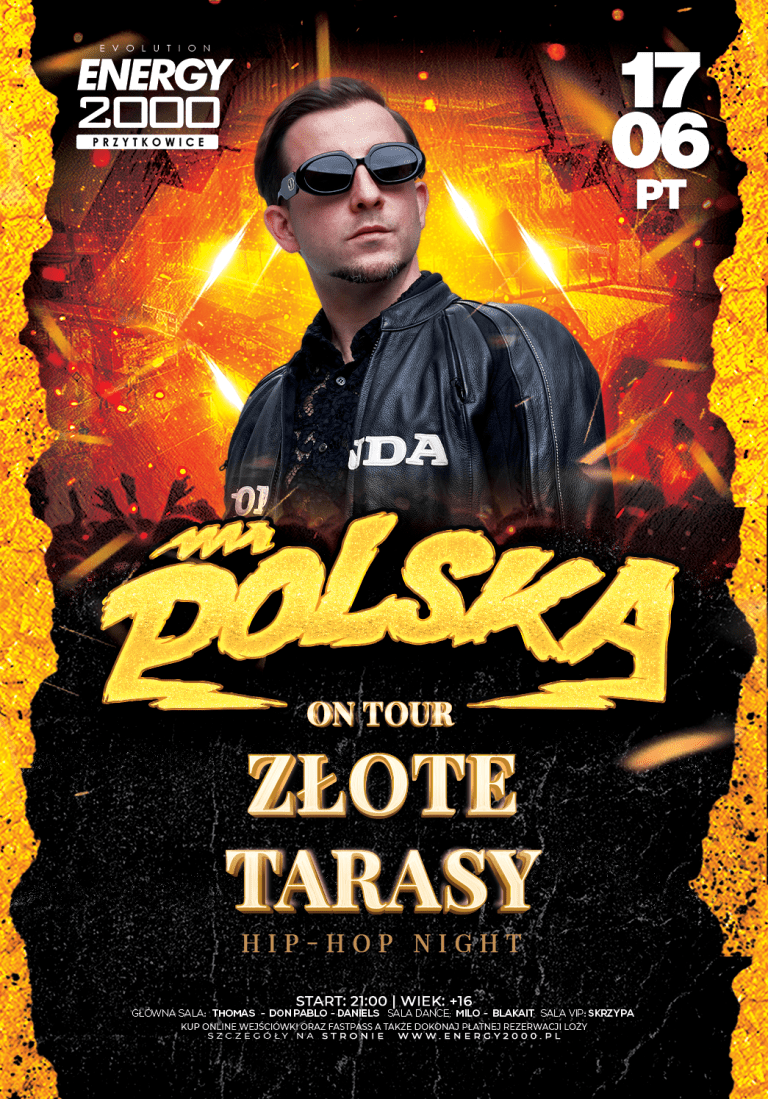 ---
Zobacz Galerię z Imprezy