OLIWKA BRAZIL ☆ LIVE ON STAGE
OPIS WYDARZENIA
OLIWKA BRAZIL ☆ LIVE ON STAGE
PT 11.02 ☆ ENERGY 2000 Przytkowice
Wiek: +16 lat | Start: 21:00 | Wstęp w dniu wydarzenia: 20 zł
W piątek 11 lutego zapraszamy do przytkowickiego Energy 2000! Tej nocy na naszej scenie jedna z najbardziej kontrowersyjnych postaci – OLIWKA BRAZIL. Usłyszycie na żywo jej największe hity "TOXIC BABY", "KARALUCHY", "BIG MOMMY" czy "KOKIETERKA". Tego wydarzenia naprawdę nie możecie przegapić. Będzie się działo i to sporo… to pewne! Oczywiście oprócz eksplozji hip-hop-owych dźwięków, czeka na Was także moc innych atrakcji i niespodzianek!
WEJŚCIÓWKI DOSTĘPNE ON LINE ORAZ W DNIU WYDARZENIA W KASIE KLUBU!
II PULA DOSTĘPNA NA STRONIE (w cenie 20zł):
Do każdej wejściówki z II PULI prezent niespodzianka na wejściu!
Zagrają dla Was nasi rezydenci:
Main Stage: Thomas, Don Pablo, Pancza
Dance Stage: Milo, Blakait
VIP Stage: Skrzypa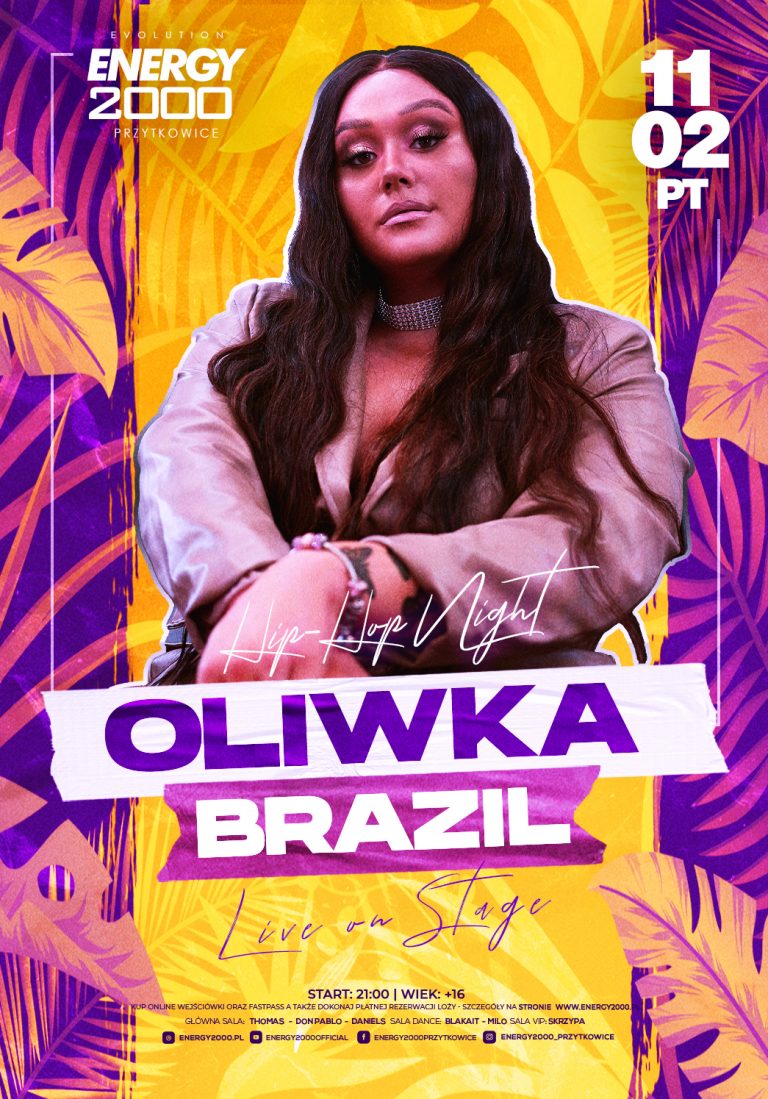 ---
Zobacz Galerię z Imprezy