OSTATKI ☆ HUBERTUS/ MAX FARENTHIDE
OPIS WYDARZENIA
OSTATKI ☆ HUBERTUS/ MAX FARENTHIDE
Sb.22.02.20 ☆ ENERGY 2000 PRZYTKOWICE
Czas na ostatni rozdział w starym klubie Energy 2000 Przytkowice, przed nami ostatnia impreza przed WIELKĄ EWOLUCJĄ! W sobotę 22 lutego zapraszamy na szalone zakończenie karnawału 2020, czyli energiczne OSTATKI w starym dobrym stylu. Tej wyjątkowej nocy za stery powróci legendarny już duet DISCO SUPERSTAR, czyli DJ HUBERTUS i MAX FARENTHIDE. Na koncie tego duetu widnieją takie hity jak: "Slice Me Nice", "Out Of My Mind", "I'm So Hot" i wiele innych. Nasi dj-je zabiorą Was w ostatnią muzyczną podróż i przypomną największe hity. Nasz klub w Przytkowicach zmieni się w prawdziwe epicentrum muzycznej energii i szalonej zabawy. Zapewnimy Wam niezapomniane wrażenia, dzięki całej masie atrakcji i niespodzianek, które przygotujemy dla Was na tą specjalną okazję. Cztery sale i cztery różne muzyczne klimaty, które zaprezentują Wam najlepsi polscy dj-je. To będzie ostatni taki wieczór w starym Energy 2000 Przytkowice! Oprócz tego czeka na Was moc promocji oraz inwazja energicznych gadżetów i prezentów od Energy 2000 i sponsorów imprezy, a także niesamowity multi-laser show i spektakularny pokaz pirotechniki scenicznej. Tej imprezy naprawdę nie możecie przegapić!
Uwaga! Dla najszybszych na wejściu premierowy ENERGY MIX VOL. 65!
Bilet: do 22.00 Panie 15 zł, Panowie 20 zł
po 22.00 Panie 20 zł, Panowie 25 zł
Zagrają dla Was nasi rezydenci:
Sala Główna: Thomas & Don Pablo & Daniels
Sala Dance: De Sebastiano & Matt G
PROMOCJE / URODZINY/KAWALERSKIE/PANIEŃSKIE – NIEAKTYWNE! Zasady promocji znajdziesz w naszym FAQ.
Ilość promocji ograniczona.
Rezerwacja loży: ON-LINE:
https://przytkowice.energy2000.pl/rezerwacje/
lub TELEFONICZNIE pod nr tel.:
od pon. do pt. w godz. 8.00-16.00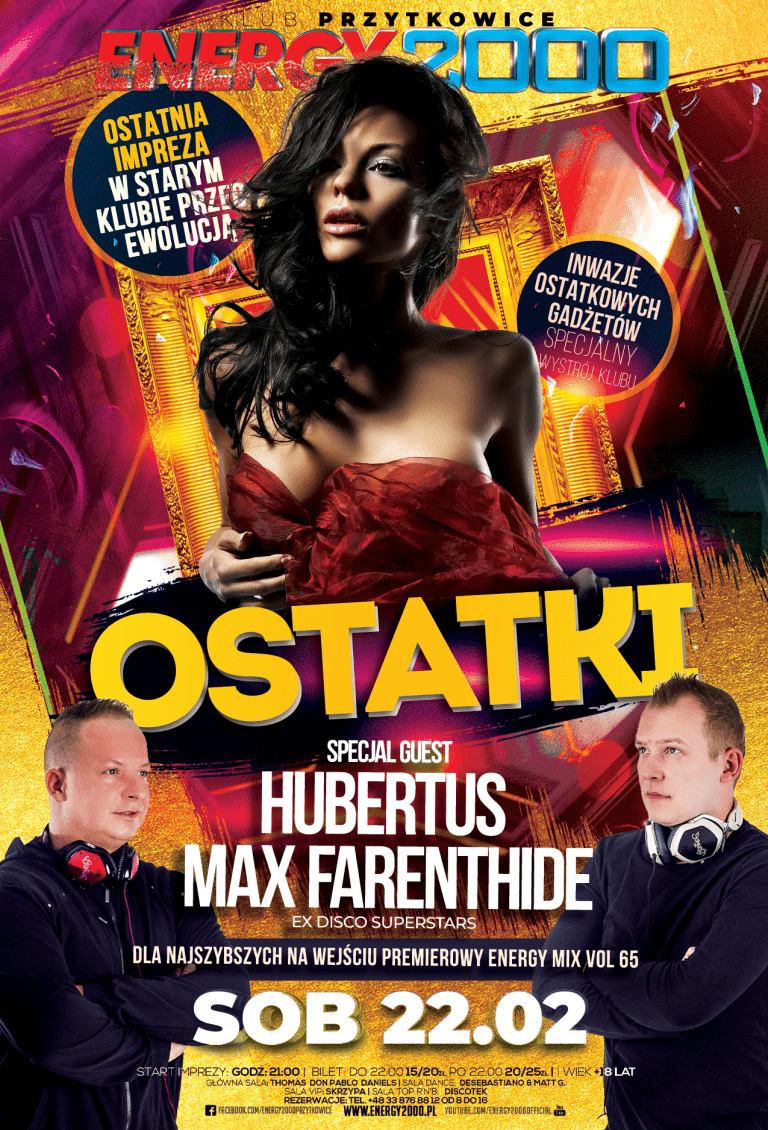 ---
Zobacz Galerię z Imprezy