PRISONERS ★ Live Show
OPIS WYDARZENIA
PRISONERS LIVE SHOW ★ PT.06.07.2018 ★ ENERGY 2000 PRZYTKOWICE
Jesteście naprawdę zwariowani i lubicie szaloną zabawę! Myślicie, że przeżyliście już najlepsze imprezy swojego życia? Zdecydowanie NIE!!! To niemożliwe, bo najbardziej zwariowana impreza Waszego życia dopiero nadchodzi! Już w piątek 6 lipca przygotujcie się na PRISONERS LIVE SHOW! Tej nocy kontrolę nad przytkowickim klubem przejmie dwóch największych Świrów, którzy uciekli z więziennego zakładu psychiatrycznego i trafili wprost do Energy 2000! To właśnie Oni przekażą Wam pozytywną energię i zarażą nieuleczalną chorobą zwaną IMPREZĄ! Spodziewajcie się niesamowitych efektów specjalnych, masy nagród, atrakcji i energicznej muzy!
Tego wydarzenia po prostu nie możecie przegapić.
Zagrają: Main Stage: Thomas | Don Pablo & Daniels || Sala Dance: DeSebastiano & Matt G
Bilet: 10 PLN | Wiek: +16 lat | Start: 21:00
PROMOCJA / URODZINY/KAWALERSKIE/PANIEŃSKIE – AKTYWNA. Zasady promocji znajdziesz w naszym FAQ.
Rezerwacja loży: ON-LINE: Dla zarejestrowanych i po zalogowaniu na naszej stronie www, w zakładce: KLUB/REZERWACJE lub TELEFONICZNIE pod nr. 33 876 88 12 wew.23 od pon. do pt. w godz. 8-16 i po 21-24.Sobota (15:00 – 19:00) pod nr.tel. 609 539 580
Serdecznie zapraszamy!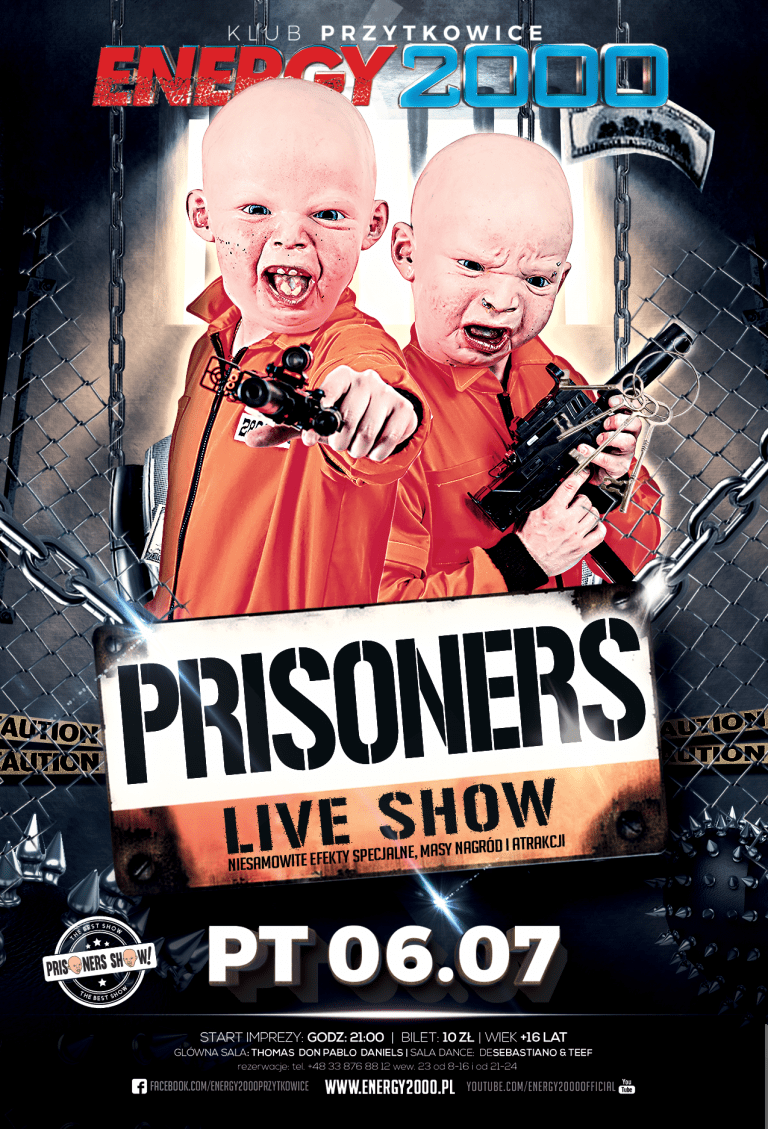 ---
Zobacz Galerię z Imprezy