REMADY & MANU-L – Live On Stage
OPIS WYDARZENIA
W sobotę 20 stycznia, zapraszamy Was gorąco na występ najbardziej energetycznego duetu na świecie – REMADY & MANU-L. Panowie już wielokrotnie występowali w naszych klubach i zawsze, dzięki ich niespożytym zapasom energii i zaangażowaniu, były to najlepsze i niezapomniane imprezy. Szwajcarski duet zagra dla Was swoje największe hity: The Way We Are, Single Ladies, Higher Ground, Holidays, In My Dreams, Weekend, Another Day In Paradise i wiele innych. Czeka Was niesamowity dj set w wykonaniu Remady-ego i pełen ekspresji sceniczny live Manu-L-a, wspierany przez prawdziwą inwazje ich firmowych gadżetów, a także wiele innych atrakcji przygotowanych na tą specjalną noc!
Jak zwykle w czasie sobotniej imprezy nie zabraknie także innych atrakcji i niespodzianek: pokazu pirotechniki scenicznej, wystrzałów konfetti, multilaser-show oraz inwazji naszych firmowych gadżetów: koszulek, opasek i Energy Mixów.
Wstęp: 20 PLN | Wiek +18 lat | Start 21:00
Zagrają dla Was nasi rezydenci:
Sala Główna: Thomas Don Pablo & Daniels
Sala Dance: De Sebastiano & Matt G
Sala VIP: Teef
Sala Top – R'n'B: Dj Skrzypa
PROMOCJE / URODZINY/KAWALERSKIE/PANIEŃSKIE – AKTYWNE! Zasady promocji znajdziesz w naszym FAQ.
Ilość promocji ograniczona.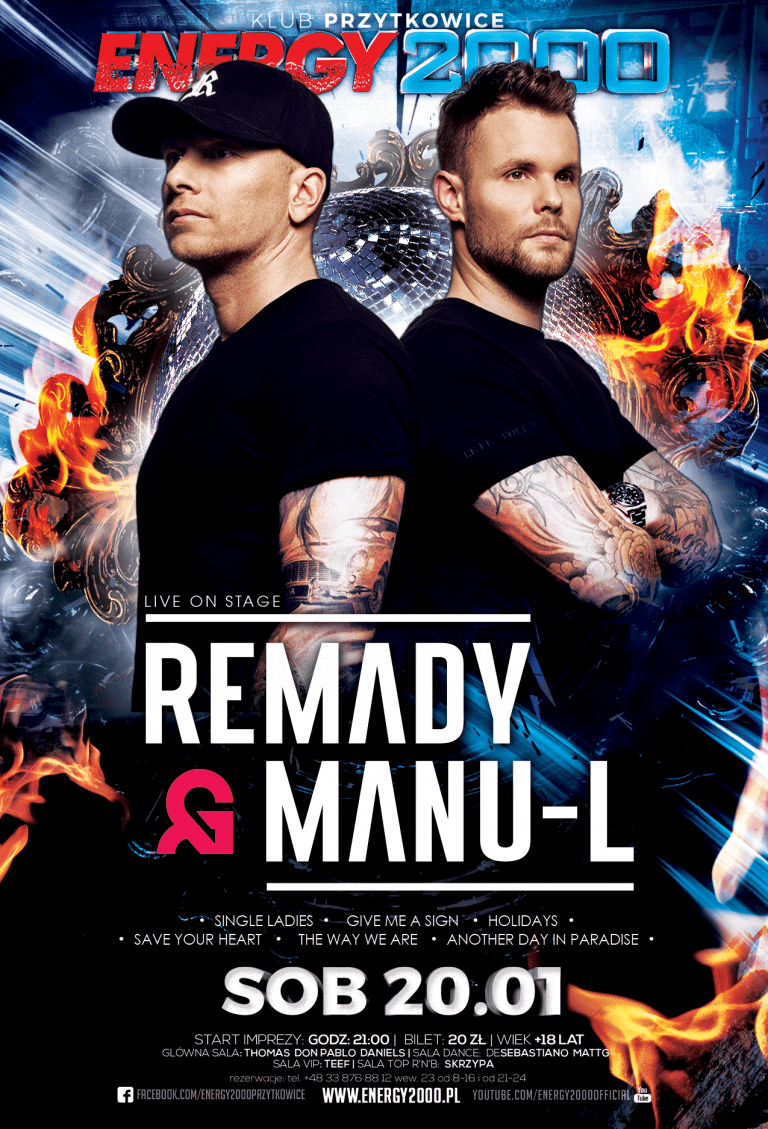 ---
Zobacz Galerię z Imprezy