RETRO PARTY – DJ Dziekan Retro Live Mix
OPIS WYDARZENIA
W sobotę 16 września wszystkich fanów muzyki dance z początków XXI wieku, zapraszamy na muzyczny powrót do przeszłości – czyli legendarne RETRO PARTY. Jak zwykle zabierzemy Was w niesamowitą podróż energicznym wehikułem czasu wspominając największe hity w 26 letniej historii naszego klubu.
Dodatkową atrakcją będzie specjalny Retro Live Mix, w wykonaniu naszego gościa – wirtuoza keyboardu – jedynego i niepowtarzalnego DJ DZIEKANA. To co ten człowiek robi z klawiaturą swojej Yamahy to prawdziwe "mistrzostwo świata"! Po prostu musicie to zobaczyć i usłyszeć!
Jak zwykle w czasie sobotniej imprezy nie zabraknie także innych atrakcji i niespodzianek: pokazu pirotechniki scenicznej, wystrzałów konfetti, multilaser-show oraz inwazji energicznych retro gadżetów i naszych firmowych prezentów: koszulek, opasek i specjalnej Retro edycji Energy Mixa vol.54.
Wstęp: 20 PLN | Wiek +18 lat
Zagrają dla Was nasi rezydenci:
Sala Główna: Thomas Don Pablo & Daniels
Sala Dance: De Sebastiano & Matt G
Sala VIP: Teef
Sala Top – R'n'B: Resident DJ
PROMOCJE / URODZINY/KAWALERSKIE/PANIEŃSKIE – AKTYWNE! Zasady promocji znajdziesz w naszym FAQ.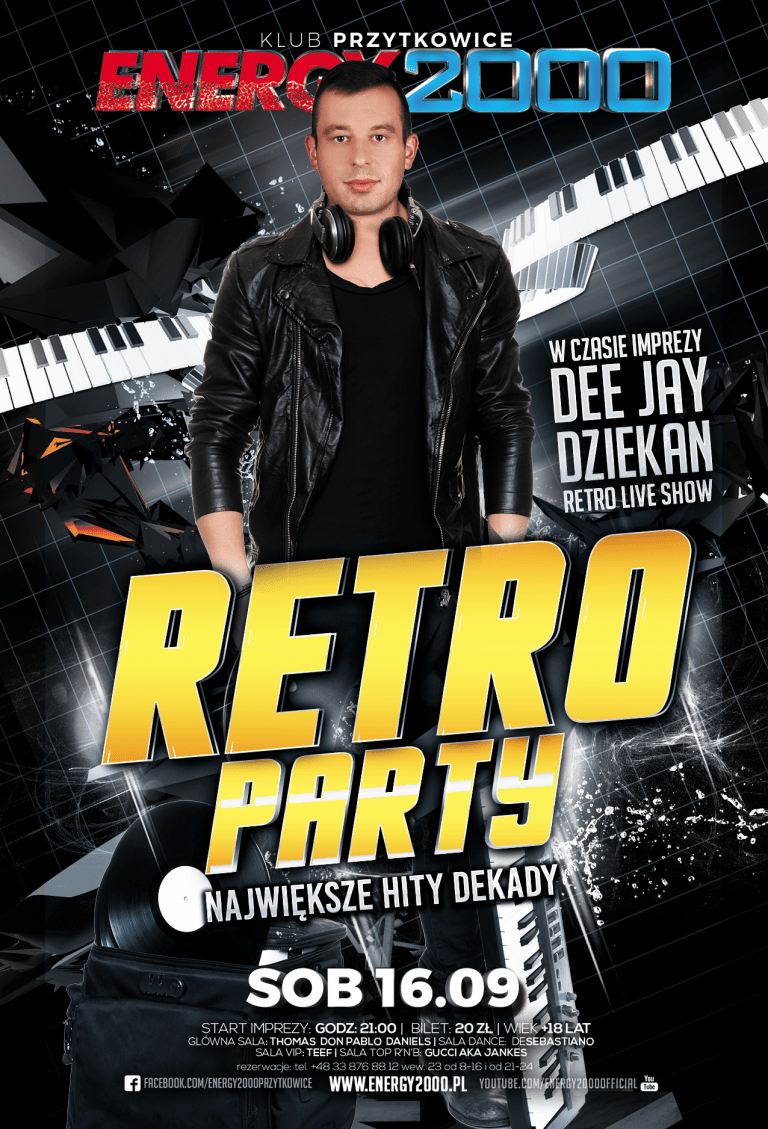 ---
Zobacz Galerię z Imprezy