RETRO PARTY pres. DANZEL Sala Dance koncert: MARKUS P
OPIS WYDARZENIA
W sobotę 5 sierpnia wszystkich fanów muzyki dance z początków XXI wieku zapraszamy na niesamowitą podróż naszym energicznym wehikułem czasu, w którą tym razem zabierze Was gwiazda kolejnej edycji RETRO PARTY – prawdziwa ikona tamtych czasów – jedyny i niepowtarzalny DANZEL !!!…, twórca kultowych hitów, które do tej pory rozpalają do czerwoności energiczny parkiet – "Pump It Up", "Put Your Hands Up In The Air" czy "You Spin Me Round" ( Sala Główna – godz.24:00 )! To będzie naprawdę niesamowita noc wspomnień!
Dodatkową atrakcją dla fanów polskiej muzyki dance będzie występ gwiazdy tego gatunku – niesamowitego – MARKUSA P (sala dance – godz. 1:00).
Jak zwykle w czasie sobotniej imprezy nie zabraknie innych atrakcji i niespodzianek: pokazu pirotechniki scenicznej, wystrzałów konfetti, multilaser-show i inwazji energicznych retro gadżetów i naszych firmowych prezentów: koszulek, opasek i specjalnej Retro edycji Energy Mixa 54.
Wstęp: 20 PLN | Wiek +18 lat
Zagrają dla Was nasi rezydenci:
Sala Główna: Thomas Don Pablo & Daniels
Sala Dance: De Sebastiano & Matt G
Sala VIP: Teef
Sala Top – R'n'B: Resident Dj
PROMOCJE / URODZINY/KAWALERSKIE/PANIEŃSKIE – AKTYWNE! Zasady promocji znajdziesz w naszym FAQ.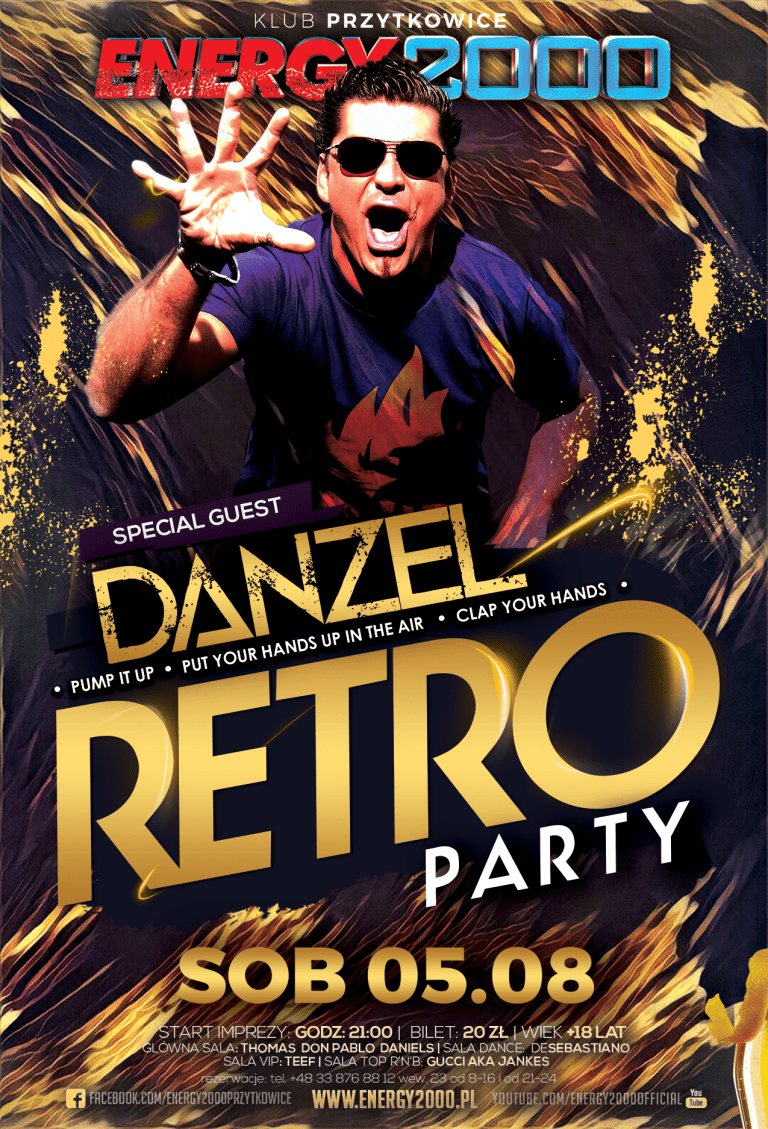 ---
Zobacz Galerię z Imprezy