RETRO PARTY pres. DJ ROCCO
OPIS WYDARZENIA
Kochani, w sobotę 11 listopada, naszą kultową imprezę RETRO PARTY, uświetni występ prawdziwej legendy tamtych lat. Oddanym Retromaniakom, tej postaci nie trzeba specjalnie przedstawiać, wystarczy wspomnieć, że to twórca pamiętnych mega-hitów: "One, Two, Three", "Everybody","Alright", czy "Drop The Bass", które w ubiegłej dekadzie królowały na parkiecie Energy 2000. Dj Rocco i Bass-T stworzyli także dziesiątki remiksów i dali początek zupełnie nowemu muzycznemu stylowi, który określany jest mianem "Hands Up". Dj Rocco, to nie tylko doskonały producent i ikona tamtych czasów, ale także świetny i charyzmatyczny dj, którego niesamowite występy należą do najlepszych, w długiej historii naszego klubu.
Jak zwykle w czasie sobotniej imprezy nie zabraknie także innych atrakcji i niespodzianek: pokazu pirotechniki scenicznej, wystrzałów konfetti, multilaser-show oraz inwazji energicznych retro gadżetów i naszych firmowych prezentów: koszulek, opasek i specjalnej Retro edycji naszego Energy Mixa vol.54.
Wstęp: 20 PLN | Wiek +18 lat | Start 21:00
Zagrają dla Was nasi rezydenci:
Sala Główna: Thomas Don Pablo & Daniels
Sala Dance: De Sebastiano & Matt G
Sala VIP: Teef
Sala Top – R'n'B: Dj Skrzypa
PROMOCJE / URODZINY/KAWALERSKIE/PANIEŃSKIE – AKTYWNE! Zasady promocji znajdziesz w naszym FAQ.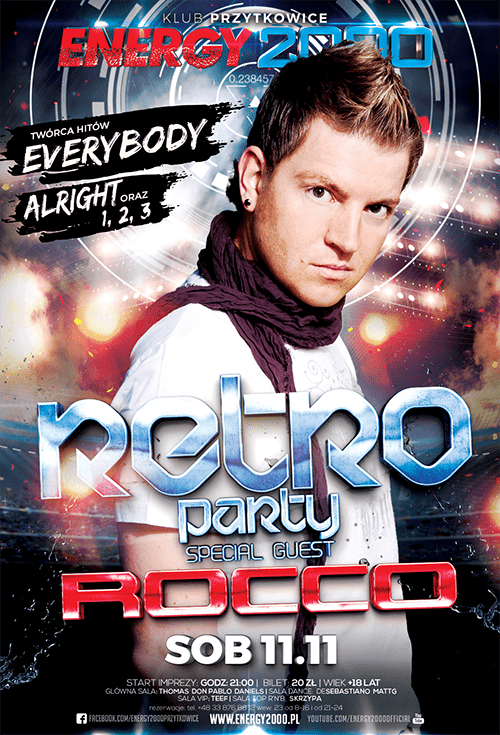 ---
Zobacz Galerię z Imprezy