RETRO PARTY pres. The Real Booty Babes
OPIS WYDARZENIA
Na kolejnej edycji naszej kultowej imprezy Retro Party, wystąpi dla Was jedna z największych ikon tamtych czasów, legendarna formacja THE REAL BOOTY BABE aka RAVE ALLSTARS z udziałem założyciela – niemieckiego Dj-ja – JENSA O. Usłyszycie na żywo takie mega-hity jak "Derb", "Since You Been Gone", "Played-A-Live", "Hardcore Vibes", "All The Things She Said" czy "The Power Of Love". Jens O, to nie tylko doskonały producent i ikona tamtych czasów, ale także świetny i charyzmatyczny dj, którego niesamowite występy należą do najlepszych, w długiej historii naszego klubu.
Żaden szanujący się Retromaniak po prostu nie może przegapić takiej okazji. Jak zwykle w czasie sobotniej imprezy nie zabraknie także innych atrakcji i niespodzianek: pokazu pirotechniki scenicznej, wystrzałów konfetti, multilaser-show oraz inwazji energicznych retro gadżetów i naszych firmowych prezentów: koszulek, opasek i specjalnej Retro edycji naszego Energy Mixa vol.54.
UWAGA! Na wejściu dla każdego NOWY ENERGY MIX vol.55 w PREZENCIE!
Wstęp: 20 PLN | Wiek +18 lat | Start 21:00
Zagrają dla Was nasi rezydenci:
Sala Główna: Thomas Don Pablo & Daniels
Sala Dance: De Sebastiano & Matt G
Sala VIP: Teef
Sala Top – R'n'B: Dj Skrzypa
PROMOCJE / URODZINY/KAWALERSKIE/PANIEŃSKIE – AKTYWNE! Zasady promocji znajdziesz w naszym FAQ.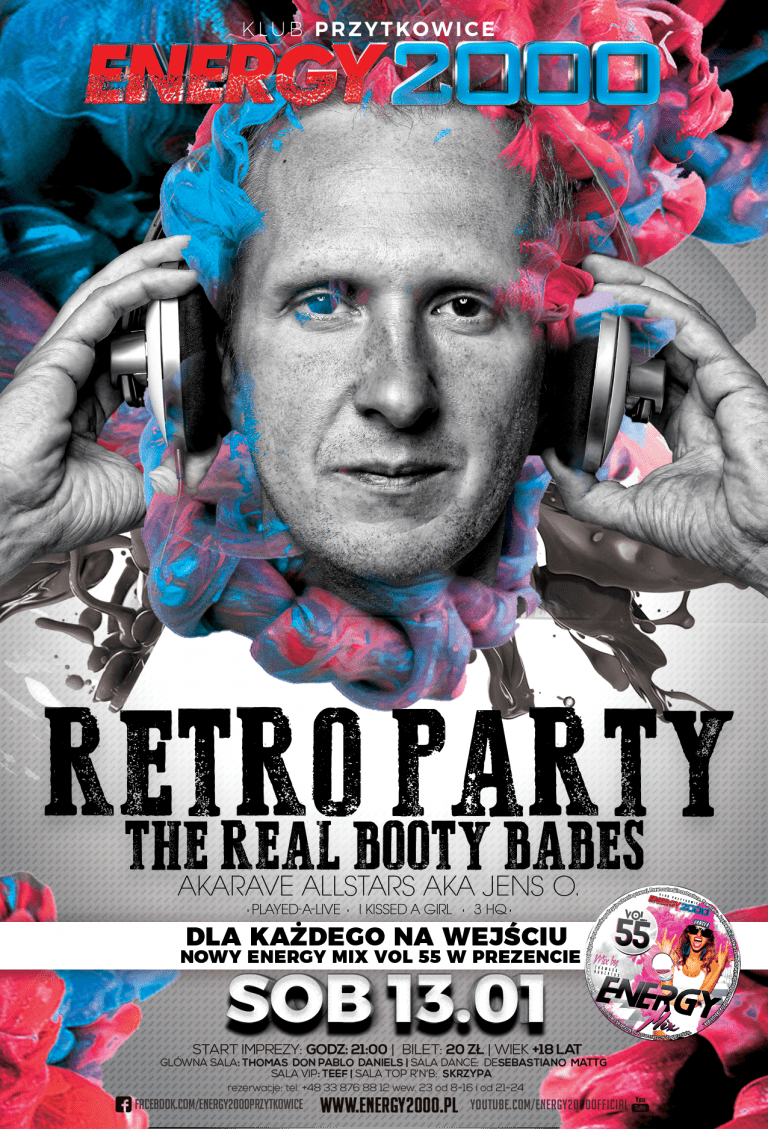 ---
Zobacz Galerię z Imprezy