RETROMANIA ☆ MATYS/ MAXIMO/ THOMAS/ HUBERTUS ☆ Koncert SALA DANCE – POWER PLAY
OPIS WYDARZENIA
RETROMANIA ☆ MATYS/ MAXIMO/ THOMAS/ HUBERTUS
SB 20.11 ☆ ENERGY 2000 PRZYTKOWICE
W sobotni wieczór 20 listopada zapraszamy Was na kolejną edycję waszej ulubionej imprezy RETROMANIA! Przed Wami noc pełna dobrego starego clubbingu z ikoną tego gatunku! Tym razem na Wielki Powrót do przeszłości, w czasy kiedy muzyka miała dusze, a klubowicze stanowili jedną wielką rodzinę, zaprasza nas prawdziwa ikona polskiej sceny klubowej – sam DJ MATYS! Twórca najdłuższego muzycznego O R G A Z M U. Za energiczną konsolą pojawią się także wieloletni rezydenci klubu Energy 2000 Przytkowice THOMAS, MAXIMO i HUBERTUS! Oddanym Klubowiczom tych postaci nie trzeba specjalnie przedstawiać, wystarczy wspomnieć, że to współtwórcy legendarnego klubu Energy2000 Przytkowice i jedeni z najlepszych DJ'ów w Polsce. W czasie sobotniej imprezy nie zabraknie także innych atrakcji i niespodzianek!Dodatkowo tego wieczoru koncert na SALI DANCE. Zagra dla Was zespół POWER PLAY z hitami: "Lubisz To Lubisz", "Co Ma Być To Będzie", "NajPiękne" i wieloma innymi.
BILETY DOSTĘPNE W DNIU WYDARZENIA W KASIE KLUBU I ONLINE. DO KAŻDEGO BILETU ONLINE SPECJALNY PREZENT NA WEJŚCIU.
Wstęp: +18 lat | Start: 21:00 | Bilety: 25 zł
Zagrają dla Was nasi rezydenci:
Main Stage: Thomas, Don Pablo, Daniels
Dance Stage: DeSebastiano, Milo
VIP Stage: Skrzypa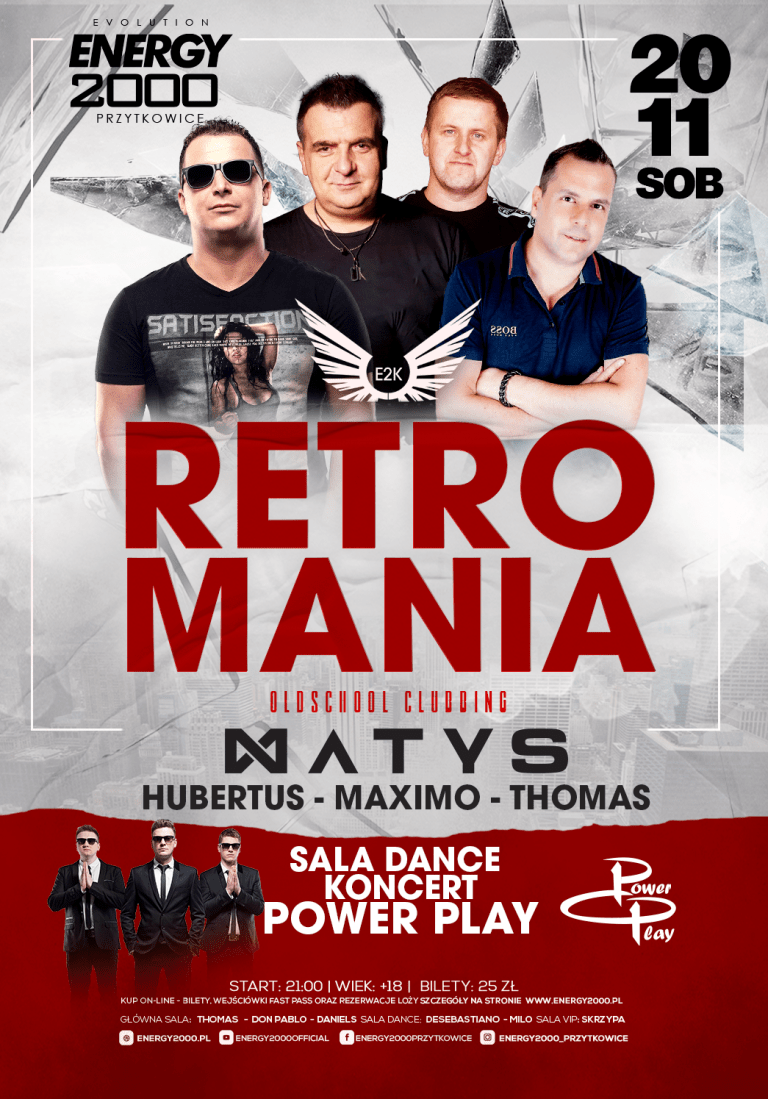 ---
Zobacz Galerię z Imprezy