SB MAFFIJA pres. Bedoes & Beteo
OPIS WYDARZENIA
Już piątek 24 listopada zapraszamy do przytkowickiego Energy 2000, na kolejną imprezę z udziałem największych gwiazd polskiego hip -hopu. Tym razem na energicznej scenie pojawią się przedstawiciele SB MAFFIJI, czyli dwóch panów "B" – BEDOES & BETEO. Ten niesamowity duet podbił serca milionów fanów, a ich utwory zyskały miliony wyświetleń na YouTube. Bedoes – rocznik '98. Najmłodszy Młody Wilk Popkillera i najmłodszy polski raper na szczycie OLiS. Jeden z najgłośniejszych i najmocniejszych debiutów wydawniczych w historii polskiego rapu, który pierwsze miliony w sieci zrobił przed… dwudziestką. Beteo – rocznik '95, a już doświadczony zarówno w kwestiach rapowych jak i melanżowych. Jego nowa płyta "Bejbi", która trafi na półki w maju 2017 roku to kolejny new-schoolowy koktajl w którym mieszają się beztroska, post-melanżowa gorycz, łatwy sex, trudne związki oraz rozterki związane z wchodzeniem w dorosłość. Osobno każdy z nich to hip-hopowa bomba, ale razem tworzą mieszankę wybuchową o niespotykanej sile rażenia. Czeka Was prawdziwa raperska uczta. Tego wydarzenia naprawdę nie możecie przegapić. Będzie się działo i to sporo… to pewne!
Oczywiście oprócz eksplozji hip-hopowych dźwięków, czeka na Was także moc innych atrakcji i niespodzianek: pokaz pirotechniki scenicznej, wystrzały konfetti, wyrzutnie ognia i co2, multilaser-show oraz inwazja naszych firmowych gadżetów: koszulek, specjalnych opasek i nowych Energy Mixów.
Bilet: do godz. 22:00 – 10 PLN / po 22 – 15 PLN
Wiek: + 16 lat || Start 21:00
Zagrają:
Główna Sala: Thomas | Don Pablo & Daniels
Sala Dance: DeSebastiano & Teef
PROMOCJA / URODZINY/KAWALERSKIE/PANIEŃSKIE – AKTYWNA. Więcej informacji w naszym FAQ.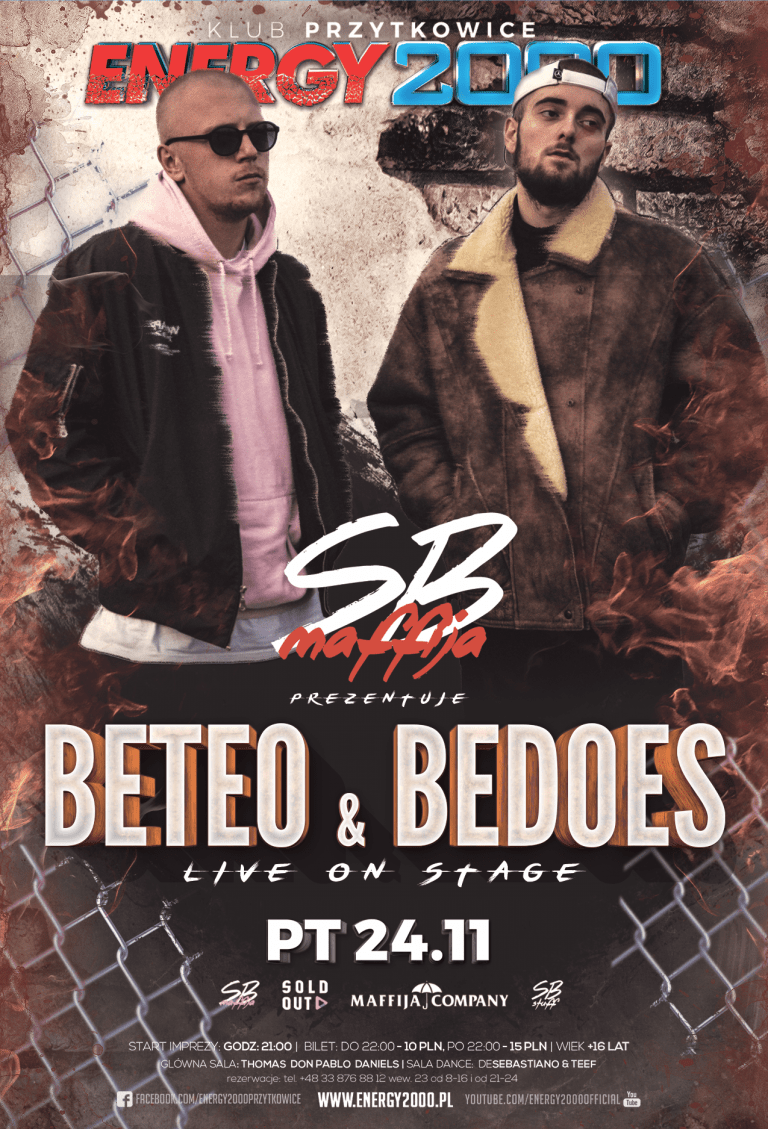 ---
Zobacz Galerię z Imprezy