SINGLE PARTY ★ The most popular party!
OPIS WYDARZENIA
SINGLE PARTY ★ The most popular party!
PT.12.07.19 ★ ENERGY 2000 PRZYTKOWICE
Gotowi na najmodniejszą imprezę w Polsce? Chcesz zaszaleć? Szukasz swojej prawdziwej miłości? Zapraszamy Cię w piątek 12. lipca! W czasie naszej imprezy wszystkie Singielki i Single będą mogli założyć specjalne opaski koloru zielonego, a Ci zajęci i zajęte lub "niechętne" otrzymają czerwone. Teraz znalezienie twojej połówki będzie na prawdę proste! Spodziewajcie się niesamowitych efektów specjalnych, masy nagród, atrakcji i energicznej muzy!
Sala Główna: Thomas | Don Pablo | Daniels
Sala Dance: De Sebastiano I Matt G
Bilet: 10 PLN | Wiek: +16 lat | Start: 21:00
PROMOCJA / URODZINY/KAWALERSKIE/PANIEŃSKIE – AKTYWNA.
Zasady promocji znajdziesz w naszym FAQ.
Rezerwacja loży: ON-LINE: na naszej stronie www., w zakładce: REZERWACJE LOŻY lub TELEFONICZNIE pod nr. 33 876 88 12 od pon. do pt. w godz. 8-16.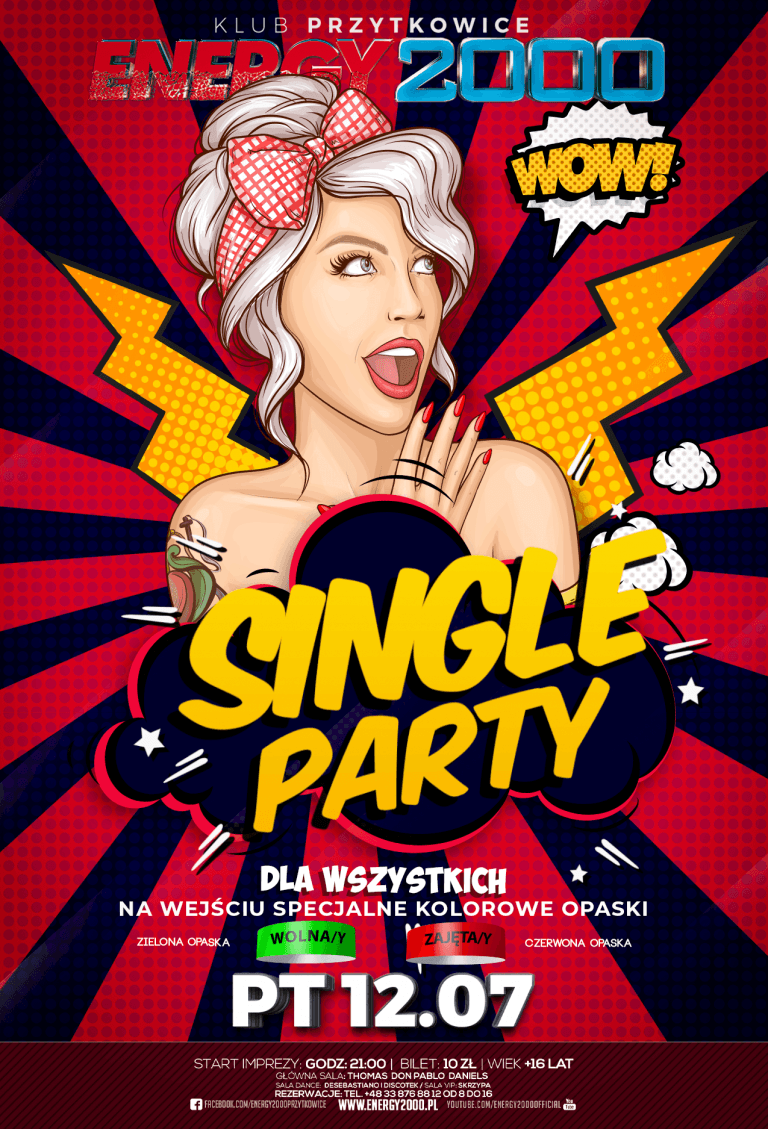 ---
Zobacz Galerię z Imprezy