Sub Zero Project ★ Kings Of Hardstyle
OPIS WYDARZENIA
SUB ZERO PROJECT ★ KINGS OF HARDSTYLE
PT.11.01.2019 ★ ENERGY 2000 PRZYTKOWICE
Rok 2019 rozpoczynamy prawdziwą hardstylową bombą! W piątek 11 stycznia wszystkich fanów szybkich i mocnych kików, w tempie 150 BPM, zapraszamy na kolejną już edycję naszej kultowej imprezy – KINGS OF HARDSTYLE. Za energiczną konsoletą staną jedne z najjaśniejszych gwiazd tego gatunku – niesamowita formacja SUB ZERO PROJECT!!! Czeka Was przepełniony charyzmą DJ set i hardstylowy spektakl w mistrzowskim wykonaniu. Występ gwiazd zasaportują najlepsi polscy dj: Driver, Soundfighterz, Resq. Oprócz potężnej dawki energii w czystej hardstylowej formie, czeka na Was jak zwykle inwazja energicznych gadżetów: koszulek, smyczek, opasek i Energy Hard Mixów, a także zaproszenia na imprezy oraz moc atrakcji i niespodzianek.
UWAGA! W czasie imprezy rozdajemy nowego Energy Hard Mixa Winter 2018/2019.
BILET: 10 PLN | WIEK +16 | START 21:00
PROMOCJA URODZINOWA ORAZ KAWALERSKI/PANIEŃSKIE – NIEAKTYWNE!
Zagrają dla Was nasi rezydenci:
Sala Główna: Thomas, Don Pablo & Daniels
Sala Dance: De Sebastiano & Matt G
Sala VIP: Skrzypa
Więcej w naszym FAQ.
Rezerwacja loży: ON-LINE: Dla zarejestrowanych i po zalogowaniu na naszej stronie www., w zakładce: KLUB/REZERWACJE lub TELEFONICZNIE pod nr tel. 33 876 88 12 wew.23 od pon. do pt. w godz. 8-16.
Sobota (15:00 – 19:00) pod nr.tel. 609 539 580
Serdecznie zapraszamy!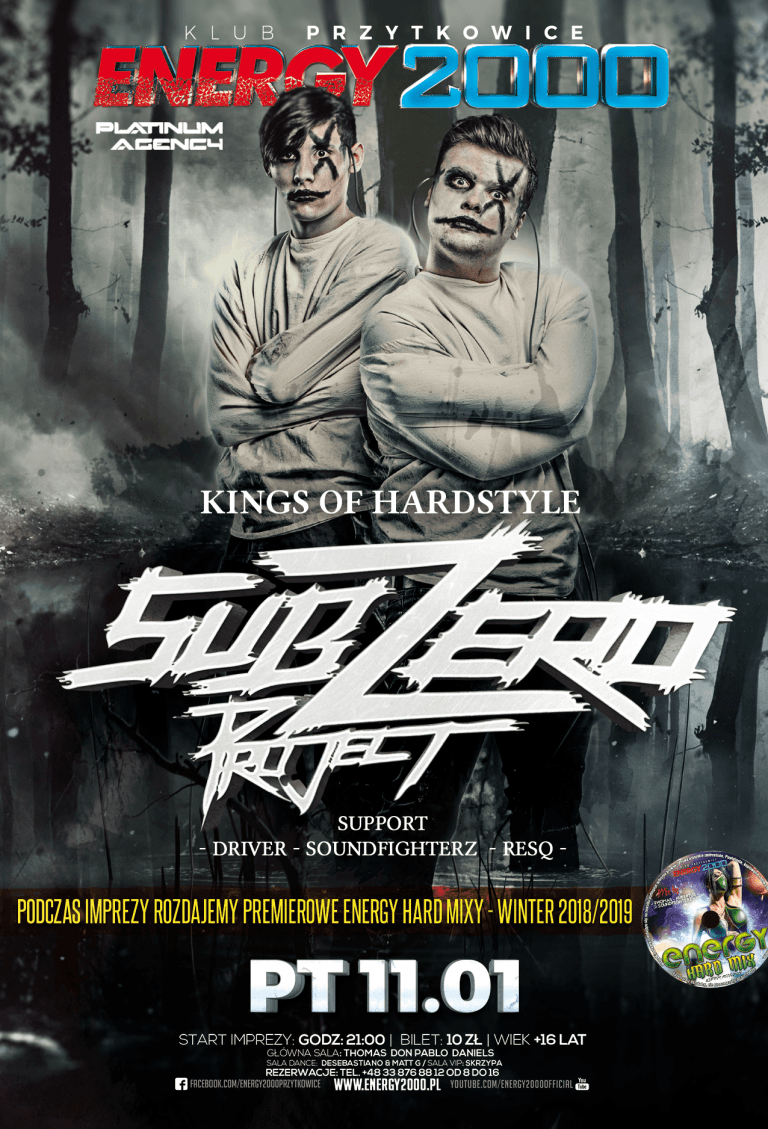 ---
Zobacz Galerię z Imprezy