SYLWESTER ★ 2018
OPIS WYDARZENIA
★ SYLWESTER 2018 ★
PON.31.12.2018 ★ ENERGY 2000 PRZYTKOWICE
W poniedziałek 31 grudnia, zapraszamy do przytkowickiego Energy 2000, na niezapomnianą sylwestrową imprezę, w niepowtarzalnym, energicznym stylu! Szykujemy dla Was mnóstwo fantastycznych atrakcji i niesamowitych noworocznych niespodzianek.
– karnawałowy wystrój
– loże z konsumpcją i szampana gratis
– spektakularny pokaz fajerwerków na zewnątrz klubu
– Multi-Laser Show
– pokazy pirotechniki scenicznej w środku klubu
– wyrzutnie ognia i Flamaniak Magic FX
– ponad 20 armatek CO2.
– wyrzutnie konfetti
– 4 sale/ 4 różne klimaty muzyczne
– konkursy z atrakcyjnymi nagrodami
– inwazja firmowych gadżetów: koszulek, silikonowych opasek, smyczek i kolekcji Energy Mixów z całego roku!
Zagrają dla Was nasi rezydenci:
GŁÓWNA:Thomas, Don Pablo & Daniel
DANCE: De Sebastiano & Matt G
VIP: Skrzypa
TOP: Discotek
UWAGA! DLA KAŻDEGO NA WEJŚCIU NOWY ENERGY MIX VOL. 60 – The Best Of 2018!
START GODZ. 20:00 | WIEK +18 LAT
PRZEDSPRZEDAŻ BILETÓW ON-LINE: https://kup.energy2000.pl/
do dnia 27.12.2017…………….. cena – 35 PLN
do i w dniu 31.12.2017………….cena – 40 PLN
Nie czekaj w kolejce w dniu imprezy! Zakup bilet on-line!
SPRZEDAŻ LOŻY I STOLIKÓW ON-LINE: https://kup.energy2000.pl/
BILETY I LOŻE MOŻNA TAKŻE ZAKUPIĆ W BIURZE KLUBU* ( w dni robocze godz.8-16) ORAZ W KASACH KLUB ( w czasie trwania imprezy ).
*Biuro znajduje się za budynkiem klubu.
Układ oraz cennik loży: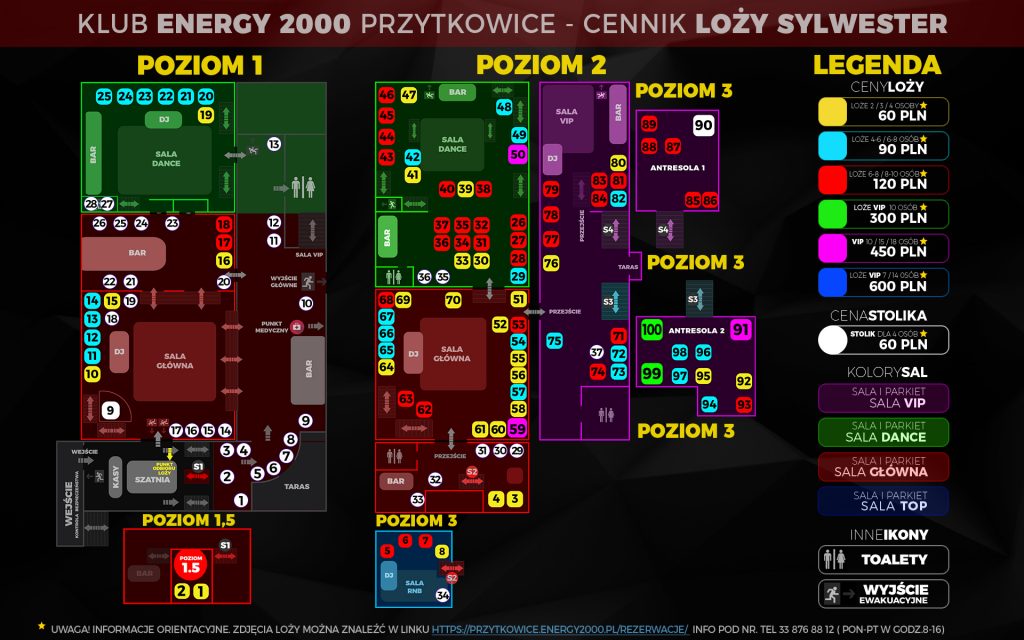 Liczba osób w klubie w czasie sylwestrowej imprezy nie podlega ograniczeniom( nie dotyczy miejsc siedzących, tzn. loży i stolików)
Więcej info pod nr tel. +48 33 876 88 12  / pon-pt./ 08-16
https://przytkowice.energy2000.pl/
Pamiętajcie! Energy 2000 to ponad 27 lat doświadczenia, gwarancja bezpieczeństwa i dobrej zabawy oraz pełna satysfakcja klienta, do której zobowiązuje posiadany przez nas certyfikat jakości ISO 9001.
Zapraszamy!