WHITE ☆ 2115 ☆ Hip-Hop Night
OPIS WYDARZENIA
WHITE ☆ 2115 ☆ Hip-Hop Night
PT 02.11.2018 ☆ ENERGY 2000 PRZYTKOWICE
W piątek 2 listopada zapraszamy Was serdecznie do Energy 2000, na kolejną imprezę z udziałem największych gwiazd polskiego hip-hopu. Tym razem na scenie pojawi się przedstawiciel grupy 2115 – niesamowity WHITE!. Usłyszycie na żywo jego największe hity "California", "RockStar", "La Vida Loca", "Blabla", "Noc" czy "Sen". Tego wydarzenia naprawdę nie możecie przegapić. Będzie się działo i to sporo… to pewne!
Oczywiście oprócz eksplozji Hip-Hop-owych dźwięków, czeka na Was także moc innych atrakcji i niespodzianek: pokaz pirotechniki scenicznej, wyrzutnie ognia i co2, multilaser-show oraz inwazja naszych firmowych gadżetów!
Zagrają:
Main Stage: Thomas | Don Pablo & Daniels
Sala Dance: DeSebastiano & Matt G
Bilet: 10 PLN | Wiek: +16 lat | Start: 21:00
PROMOCJA / URODZINY/KAWALERSKIE/PANIEŃSKIE – AKTYWNA. Zasady promocji znajdziesz w naszym FAQ.
Rezerwacja loży: ON-LINE: Dla zarejestrowanych i po zalogowaniu na naszej stronie www, w zakładce: KLUB/REZERWACJE lub TELEFONICZNIE pod nr. 33 876 88 12 wew.23 od pon. do pt. w godz. 8-16. Sobota (15:00 – 19:00) pod nr.tel. 609 539 580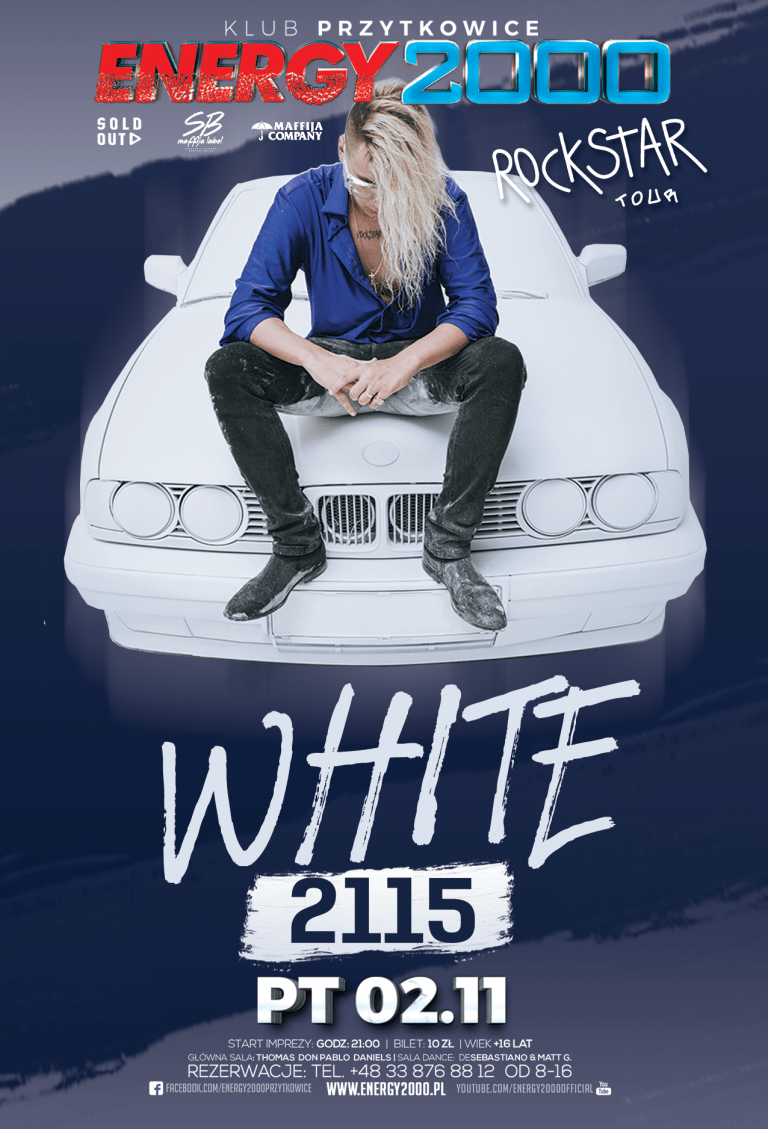 ---
Zobacz Galerię z Imprezy