Wildstylez & MC Villain – Kings Of Hardstyle
OPIS WYDARZENIA
WILDSTYLEZ & MC Villain pres. KINGS OF HARDSTYLE – Pt.13.04.2018 – Energy 2000 Przytkowice!
W piątek 13 kwietnia zapraszamy na kultową imprezę KINGS OF HARDSTYLE. Gwizdami kolejnej edycji będą prawdziwe legendy tego gatunku – jedyny i niepowtarzalny WILDSTYLEZ oraz niesamowity MC Villain. Obu Panów przedstawiać nie trzeba, bo to ścisła światowa czołówka, która regularnie gości w line up-ach największych festiwali i eventów hardstyle-owych. Produkcje Wildstyleza, to kwintesencja tego za co kochamy hardstyle, a charyzma i pozytywna energia Villaina sprawi, że tej nocy energiczny parkiet rozpali się do czerwoności!
Jako support zaprezentuje się czołówka polskiej sceny hard … Driver, Soundfighterz, Resq oraz Raw Invader.
Oprócz potężnej dawki energii w czystej hardstylowej formie, czeka na Was jak zwykle inwazja energicznych gadżetów: koszulek, smyczek, opasek i Energy Mixów ( Hard Edition ), a także zaproszenia na imprezy, wlotki do parku rozrywki Energylandia oraz moc atrakcji i niespodzianek.
UWAGA! DLA KAŻDEGO NA WEJŚCIU W PREZENCIE NOWY ENERGY MIX HARDSTYLE EDITION!
Zagrają: Main Stage: Thomas | Don Pablo & Daniels || Sala Dance: DeSebastiano & Teef
Bilet: do godz. 22:00 – 10 PLN, po godz. 22:00 – 15 PLN
Wiek: +16 lat | Start: 21:00
Więcej info w naszym FAQ.
Rezerwacja loży: ON-LINE: Dla zarejestrowanych i po zalogowaniu na naszej stronie www, w zakładce: KLUB/REZERWACJE lub TELEFONICZNIE pod nr. 33 876 88 12 wew.23 od pon. do pt. w godz. 8-16 i po 21-24.
Serdecznie zapraszamy!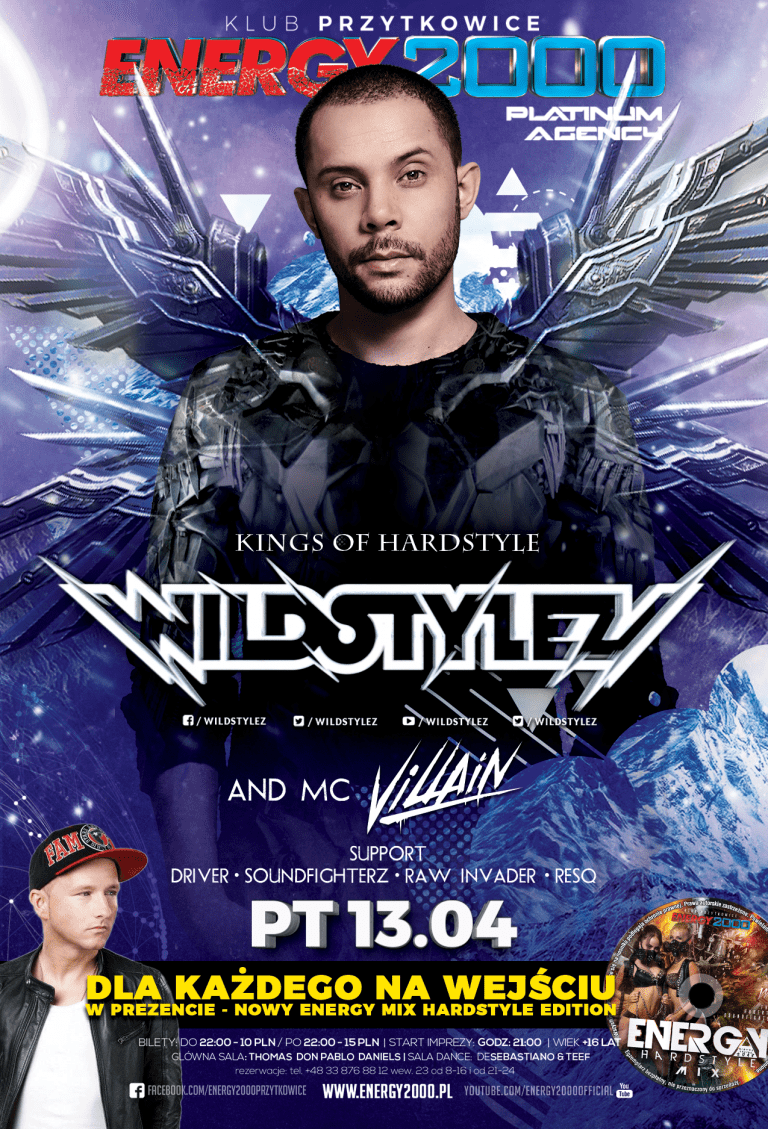 ---
Zobacz Galerię z Imprezy